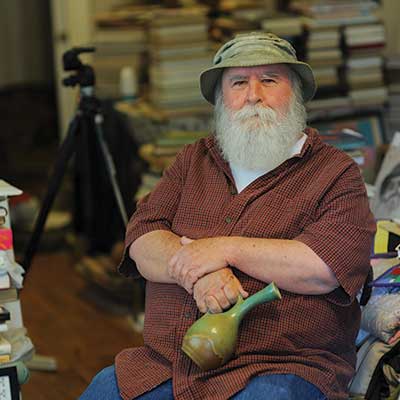 Inside a collector's collection
Story by Leigh Pritchett
Photos by Michael Callahan
and Wallace Bromberg Jr.
It has long been said that a man's home is his castle.
While that surely is true for Frank Phillips of Pell City, his dwelling is also a cache of artistic, literary and photographic treasures.
Surrounding him everyday are hundreds of volumes and artwork in various media, as well as photographs of historical figures and moments in life.
"I don't just collect this stuff," Phillips said. "I live with it. … I look at it everyday. You might see something new in it."
Much of the artwork is considered "outsider art," having been produced by individuals with no formal training. Mose Tolliver, known as Mose T, was one of those.
In fact, Phillips' collection started in 1986 with a Mose T watermelon painting he purchased directly from the artist.
"I gave him every dime I had in my pocket that day," Phillips said.
Phillips' art collection now boasts about 20 names. Among them are Dr. Art Bacon, Charles Lucas, Lonnie B. Holley, Fred Nall Hollis, David Driskell, Bernice Sims and Jimmy Lee Sudduth.
A few acquisitions in the Phillips coffer were rare, thrift-store finds. A sculpture by Frank Fleming was one of those, as was a pottery piece by Bill Gordy.
Phillips added to his pottery collection numerous "jug faces" by Burlon B. Craig and items from the Meaders family of artisans. One of Phillips' favorite pieces is a 1938 Gordy bowl adorned with the state flower.
The expansive inventory of books Phillips has amassed includes many first editions signed by such noted authors as Truman Capote, James Dickey and Harper Lee.
Phillips' assemblage also features a handmade quilt from Gee's Bend and memorabilia marking historical and special events. One piece of memorabilia is a paper fan autographed by Phillip Alford and Mary Badham, the child actors who played "Jem" and "Scout" in the 1962 movie, To Kill a Mockingbird.
Phillips said several pieces in his trove are rather valuable.
Yet, that is not why he acquired them.
"I'd like it even if it didn't have value," he said. "… You don't have to have a reason to collect."
Selected pieces from his collection have been on display in the past at Gadsden Museum of Art, Heritage Hall Museum in Talladega and, most recently, Pell City Library.
The exhibit at the library generated much interest and conversation among visitors, said Susan Mann, assistant library director.
"Frank's collection was very well received at the library," Mrs. Mann said. "… It was a great opportunity for people to see Southern folk art at its best. Frank graciously shared a pleasing mix of paintings, pottery, photographs and a primitive, handcrafted stringed instrument from his extensive and diverse collection. Most patrons were fascinated by the exhibit and were drawn to it, opting for an 'up close' view."
Early influences
Phillips grew up in St. Clair County in a family of nine children. When he earned his English degree from Jacksonville State University, he became the first in his family to graduate from college.
He is drawn to magnolia paintings and Southern cuisine and says that putting sugar in cornbread "is a sin." He prefers to read the works of authors Rick Bragg, Eudora Welty and Robert Penn Warren, who all have Southern roots.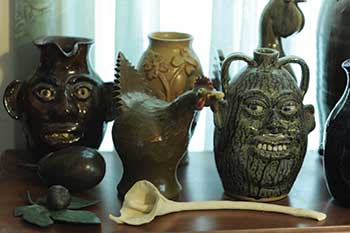 He listens to the blues, likes to travel, and serves on the executive committee of St. Clair Democratic Party.
Nonetheless, he feels an attraction to New York, Chicago, London and Paris.
"I rode a Greyhound to New York just to see a (Picasso) painting," Phillips said.
As a young man, he went to Paris to view the gravesite of poet Gertrude Stein. "I was 20 years old in Paris by myself," Phillips said.
Once, he saw artist Andy Warhol in Manhattan at the Museum of Modern Art. Warhol asked to autograph Phillips' shirt, and Phillips said, "Sure!"
Even so, Phillips does not own a piece of Warhol's art. "Who could afford that?" questions Phillips.
His recounting of that meeting with Warhol is one representation of the final piece in Phillips' treasury. That piece is not tangible, however. It consists of details and memories about places, events and encounters with noted figures.
His conversation flows easily from one recollection to another and is peppered with observations about talents and personality traits.
With the certainty that comes from first-hand knowledge, Phillips speaks of Capote's flamboyance and gives an account of Watergate figure G. Gordon Liddy. Phillips tells of attending JSU at the same time as Jim Folsom, Jr., who would later become Alabama's governor; seeing Gov. Lurleen Wallace in Ragland, where she was accompanied by Hank Williams Jr. before he was a famous singer; meeting President Jimmy Carter; attending the funerals of author Kathryn Tucker Windham and civil rights leader Fred Shuttlesworth, and getting an autograph from actress Butterfly McQueen.
"I'm writing my memoirs now," Phillips said.
If the opportunity arises, Phillips wants to add to his collection of memories – seeing the Hope Diamond and the painting, Whistler's Mother, and attending a snake-handling service at a church. "Not to handle (a snake)," he said with a chuckle. "Just to observe. My faith is not that strong."