[simpleviewer id=6 width=600 height=500]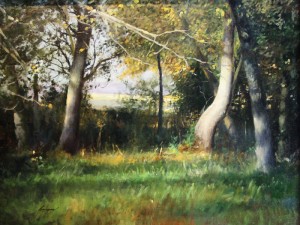 John Lonergan & Wayne Spradley
By GiGi Hood
Photos by Jerry Martin
Each beginning life might be compared to the first brush stroke on a simple piece of canvas. Both new, both existing for awhile amidst the unknown. Only time will reveal just what will develop; but time will not work alone. As life's desires are born and flourish, they will become integrated with talent, patience, determination, imagination and a strong drive to achieve. And the ultimate result will be an evolution of art that will last far beyond any one individual's lifetime.
Such was the case of two St. Clair County boys. Both grew up as friends, products of the Avondale Mills mill village. One daddy was a fixer (a welder) at the village, the other, a weaver. Both boys shared a love of sports. They played together, skipped rocks over ponds, explored the woods and attended school at Avondale Mills Elementary. They shared tales and created lifetime memories that exist to this day.
Having shared much in their young lives, the analogy of life being compared to brushstrokes on a canvas has an enormously significant meaning, as well as an almost unbelievable parallel for Wayne Spradley and John Lonergan. Both mill village boys (who still are in their hearts) grew up to become hugely successful artists.
Each man credits the teachers and administrators in Pell City schools for the multi-faceted educations they received. They agreed that their educational experiences were enhanced by the direction and encouragement they received as their talents emerged.
John Lonergan fondly remembers Miss Iola Roberts, principal of Avondale Mills Elementrary School. "She loved what she did and she believed education was not just about books. She was a great lover of the arts — dance, theater, sculpting, painting — all of it," he said. "Any chance she had to promote the students' interest in such avenues, she would take.
"She was a great presence," he explained. "Whenever she really wanted to get your attention, she would grab you by the chin to make sure what she was saying was hitting home. There was no doubt about her level of caring for the students."
A prodigious young man, Lonergan's interest in art was apparent at an early age. "I was drawing by the time I was 3 or 4 years old," he remembered. "I don't think anybody thought that much about it because I was just a kid occupying myself and having fun."
Born to a family where hard work was the primary focus to meet the family needs, education seemingly took the back seat. But that was not the case in Lonergan's life. It was placed in the forefront of his mind by his loving mother who aspired for him to have opportunities outside the boundaries of a mill village.
"From the time I was old enough to remember, my mother told me I was going to college. It was so deeply ingrained in me that I don't think I ever considered not going," he said.
And, true to his mother's wishes, he not only went to college, he graduated twice — once with a bachelor's degree in fine arts from the University of Alabama and the second time with a master's degree in education and administration from UAB.
Not long after he had begun to read, Lonergan was given a set of Child Craft books that were devoted to painting. "I was young, but I devoured those books," he said. During his third- and fourth-grade years, his teacher, Betty Cosper, was so taken with his work that she would cut out mats to go around the drawings and put them on the bulletin board.
Upon entering Pell City High School, Mrs. Dorothy Roper Mays (affectionately called "Droper" by her students) picked up where the elementary teachers had left off. She, too, greatly encouraged the development of his burgeoning talents. "One day we were talking, and I told her I wanted to be an artist one day. She quickly responded by telling me I already was," he said. "That was a very proud day of my life. I didn't know how I was going to do it, or where to begin, but I was determined to figure it out."
Before graduating from high school, Lonergan managed to sell a few of his paintings. His English teacher became his first customer when she purchased a snow scene that he had painted. "To this day, that painting still hangs in her home, and I still believe I painted the moss on the wrong side of the tree."
His science teacher also bought three of his paintings, as well as his aunt, who later he found out did so just to provide continuous encouragement for the young man's talent.
After graduating with his first degree, Lonergan was more determined than ever to make a living as an artist, even though as he put it, "artists made no money." While still pursuing his dream, Lonergan supported his family by working in an area very near and dear to his heart. "I returned to Pell City High School as art teacher," he said proudly. "With the profound mark teachers had made on my life, it was only natural that I had a desire to work with young people and sew seeds that might make a difference in their lives, just as teachers had done for me."
During the years he was busily sewing seeds at the school, his professional career took root, blossomed and bore the fruit of his dreams. After retiring from teaching, he was finally able to spend his days as the full time professional artist he had always wanted to be. Today he is considered to be one of Alabama's finest artists. His ability to paint in different styles sets him apart from many of his colleagues.
Many of his beautiful paintings, like one of his favorites, Purple Morning, are scenes from his own stomping grounds in St. Clair County. Others are from places like Pompeii, Italy. His art is known, appreciated, enjoyed and sold at well known top-shelf art exhibits throughout the country, in places like Charleston, S.C., and Jackson Hole, Wyo. He also does commissioned pieces and displays and sells his art at The Little House on Linden Gallery in Homewood, Ala.
With all his fame and success, Lonergan is living proof that the acorn doesn't fall too far from the tree. Today he is still teaching classes at Alabama Art Supply in Birmingham. Many, like Mrs. Gene Stallings, have had and still have the opportunity to be taught by the boy from the mill village of Pell City who grew to become a nationally renowned artist.
Career blossoms for Spradley
Coincidentally, while Lonergan was beginning to arrive at his desired professional destination, Wayne Spradley, his childhood friend from the mill village, was traveling a very similar track. At that time, Spradley, who was a few years older than John, had already begun to make his first marks, as well as his first dollars, as a professional artist.
Like Lonergan, he also was a product of both the hard working, close-knit people of the mill village and the influence of Avondale Mills Elementary School and then Pell City High School. He, too, had been privy to the school system that not only afforded a great educational opportunity, but one that nurtured and encouraged a strong interest in the arts.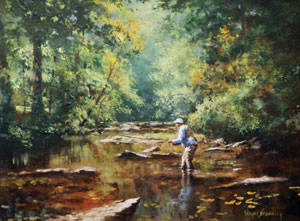 He was the first from his family to receive a high school diploma. "Looking back to my first school experience, I'm not sure how I made it," he said. "When it was time to start kindergarten, I didn't want to go. My mother literally had to drag me into school and even resort to sometimes whipping me up the steps of the school. I don't know why I was like that. I just had no interest in being there," he remembered.
Apparently a precocious child, Spradley said that because he was always into something, his mother wasn't surprised when she was called and told to come to the school. "She wondered what I had done this time," he said. "And, when she got there, the real surprise was that I had not caused trouble, but that I had sculpted a bird's nest from clay that caused everyone to marvel at my supposed talent. I do have to admit I enjoyed the attention my creativity had stirred."
During his fifth-grade year, Wayne was called to the blackboard by his teacher, Mrs. Bryant. His instructions were to draw a president. To his and everyone else's astonishment, he drew the perfect likeness of George Washington.
"Until that point I knew I liked to color, to sketch and mess around with art, but I never thought about whether or not I had any talent or desire in that direction," he said. "But that's where the teachers and my principal, Miss Iola Roberts, came in. They recognized my talent, and they did everything they could do to bring it to the forefront."
From the sixth- through the eighth-grades, Miss Roberts would allow Spradley and some of his other talented friends to forego class so they could prepare stage sets for the Thanksgiving, Christmas and Halloween extravaganzas that would be presented to the whole mill village. "In February, we would begin work on Miss Roberts' famous Inspection Plays that would be held for the community prior to the end of the school year," he said. "Even though I was excused from class, I still had to keep up with my school lessons. But the lessons I learned about artistic creativity were invaluable to my life's work."
Spradley met his first real art teacher, Mrs. Armstrong, in the sixth-grade. She had just graduated from Auburn University, was really into art and could see the talent he possessed. "She would take me during study period, tell me to go outside and sketch, and then we'd talk about my work," he said. "That was really helpful in my artistic growth. I loved helpful criticism then and I always have."
During his seventh-grade year, a teacher asked Spradley what he was going to do when he grew up. He answered that he was going to play football, be a sailor and an artist. "She got mad at me because all she wanted me to do was be an artist," he laughingly remembered.
True to his word, Spradley did all three. He was captain of the Pell City High School football team, he traveled the world in the Navy, and then he returned to Pell City, where he said he couldn't buy a job. But the mill that always had been the mainstay of his family's existence, didn't let him down and once again provided a way for him to make ends meet.
While he was in the Navy, Spradley said, he achieved three things that were life-changing events. "I got an education in life, met and married Pat, my wonderful wife, and had time to paint and develop my artistic desires. I painted, sketched and continued to draw. I knew it was in my heart and soul, and that's what I wanted to do for a living," he stated.
Finally at age 28, Spradley got really serious about his artwork, and thanks to the advice and direction of Mrs. Dorothy Mays, who had graduated from the Pratt Institute of Art, he used his GI bill to study three years at the Drawing Board School of Art. It was during his first year of art school that he discovered he could make money doing what he loved. He entered five pieces of art in the Birmingham Botanical Gardens Art Show, sold them all very quickly and made $25. Spradley said he was so thrilled by his success he told his wife that they were going to take the opportunity of selling his art as far as it would go. That day was the truly the beginning of his professional art career. No longer did he just hope that one day he could do it. The journey had begun, and he was resolute in his decision to make it a life time career.
And make it he did. Invited to the country's biggest art shows, Spradley has sold hundreds of pieces of his art, received awards too numerous to mention, and gotten to know people like Katie Couric, who commissioned him to paint her ancestral home in Eufaula, Ala. Presidents Jimmy Carter, George Bush Sr. and Ronald Reagan have all been recipients of his work.
His loving and supporting wife not long ago passed away. During her sickness, he was not able to paint as much or travel to the shows he loved. "I miss her terribly," he said. "She was with me every step of my way and she always will be. The best thing I can do to honor her and all of her support is to get busy doing what we loved, so that's what I'm going to do. I've already started, and hopefully, I won't quit till my last breath. She may not be beside me, but now I have an angel on my shoulder."
Both men are amazing; both true to the gifts they have been given; both still teaching and encouraging others as they were taught and encouraged.
Neither have ever forgotten their St. Clair county roots, steeped in the mill village, the friendships they forged and the teachers who put them on their paths. Both know that the teachers who recognized their talents, gave them their first accolades and always said "yes you can" were the ones who started them on the paths to the successful highways they still travel.
• Both men are still St. Clair County residents
where they are active in their hometown.