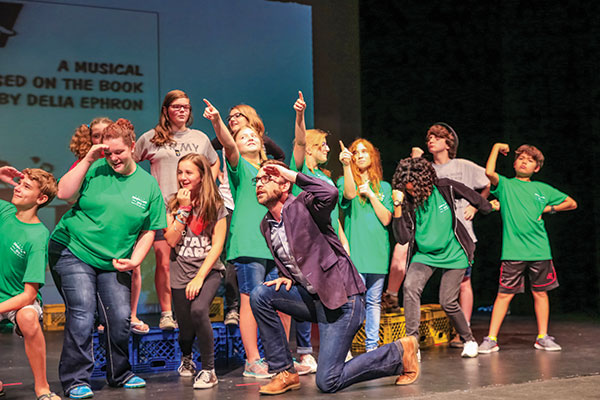 Curtain goes up on new director, new energy at CEPA
Story by Linda Long
Photos by Michael Callahan
Jeff Thompson is fitting right in to his new role as executive director of the Pell City Center for Education and the Performing Arts (CEPA), but at four years old, Thompson was on a totally different career path.
"At my preschool graduation, I told the whole class that I was going to be an aeronautical engineer. Well, that brought a whole bevy of laughs," recalled Thompson, "but I loved planes and as a child, that's all I wanted to do. That is, until I found out the engineers get paid by contract work. I didn't see much stability in that. So, suddenly, aeronautical engineering didn't seem like such a good idea anymore."
The intrepid young Thompson then turned to "Plan B." Architecture.
Though foiled again, he was not the least chagrined. "I could not pass Physics. I failed it twice. I do not understand the concept – never have, never will, and you can't be an architect if you don't get Physics. I can draw just fine," laughed Thompson. "I just wasn't able to do those high level equations."
Those two early career misdirections are clearly St. Clair County's gain. Thompson, who has been in his new role as CEPA director for only two months, already has a clear vision for leading the top notch 2,000 plus-seat sports arena and a state-of-the-art, 400-seat theater into the future. That vision is clearly spelled community.
An Auburn University graduate in Journalism, Thompson comes to CEPA with a 10-year background in newspapers, most recently as editor and general manager of the St. Clair News Aegis. 
"My formal training is newspapers," said Thompson, "and certainly one of the things newspapers gives you is intimate access and understanding on how to build identity. And that's what we're looking to do with CEPA at the moment is to take this phenomenal product which is here and really does benefit the community and build it around that."
Already finalizing the 2016 fall season, Thompson said, "We're looking to create programming that attaches itself to numerous demographics in the community. We don't want to follow a show with another show that attracts an identical audience. We want to make sure that everybody across St. Clair County feels like they have a home at CEPA. This facility was built, created and conceptualized on that bedrock. There shouldn't be anyone who doesn't have access to this facility. It was built for this community."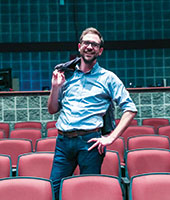 To that end, CEPA is kicking off a fall line-up which should indeed include something for everyone. The season begins in September with an amazing magic show followed just days later by a performance of the full Alabama Symphony Orchestra, a first for Pell City.
The "top tier" magic show features Brian Reaves, and the Alabama Symphony Orchestra is seen as a major coup for the theatre. Next up will be country music band, Confederate Railroad, another major act, with Two Halos Shy as opening group.
Confederate Railroad, a country rock, southern rock band, is a multi-platinum recording group. It has been nominated for a Grammy Award, and it won an American Country Music award. In May, the group appeared in Nashville with Willie Nelson, John Anderson, Colt Ford and former NFL Coach Jerry Glanville for the 20th anniversary version of its signature smash hit, "Trashy Women."
Two Halos Shy features Madibeth Morgan and Anna Tamburello. When their vocal harmony hits an audience's ear, you would swear the halos were there as the vocals sound almost angelic. Very little sounds better than a pair of voices in perfect harmony, and this talented duo fits the bill. Although still teenagers, they have been writing music and singing since before they could legally drive a car. They are working on their first album.
Capping the season is a multi-faceted arts festival featuring Alabama's top storyteller, Dolores Hydock, and bluegrass group, Whitney Junction.
"This event is all about St. Clair County," said Thompson. "It will feature local artists of all kinds." Hydock is an award winning, premiere storyteller based in Birmingham, who has entertained audiences large and small around the country. She will be performing, Footprints on the Sky, a story about the time she spent on St. Clair County's Chandler Mountain. Sharing the stage with her, providing music for her words, is Whitney Junction.
This bluegrass group formed as a ministry of First Baptist Church of Ashville and while its primary musical focus is a unique brand of bluegrass gospel, the band also performs old time bluegrass music at festivals, rallies and other events. "We want to wrangle in as many people as we possibly can and get them tied into this," said Thompson.
Built nearly 10 years ago as a partnership among the Pell City School System, City of Pell City and the community, Thompson said, "community builders came together to support this facility." A huge granite marker hangs in the lobby, telling the story of the people who built this facility. It is not just for Pell City, but for everybody. "We want to make sure every bit of our programming educates, inspires or entertains and gives them a reason for coming back."
CEPA has already established many ongoing traditions, such as its annual summer drama camps, performances by many artists from local schools and the Pell City Players, a local drama troupe created as part of its community theater offerings.
But Thompson is hoping the facility will soon have some new programs making new traditions.
"We want to maximize the availability of the facility as much as possible. One of the main activities we're looking at now using some captive audience around football games to open up the center and let folks come and be entertained prior to or following a football game. "According to Thompson, "Whatever legacy we can create with it, I want it to be something that includes the idea that we build community off of it. II think it fits in with the chamber of commerce, the city, and the school system. I think there are ties for to almost every aspect of generating a positive image for Pell City and St. Clair County. I know community, and I love community and when I look at this building, I know it can be what my definitions are for it."