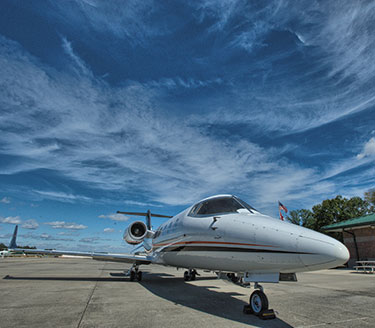 Destination:
St. Clair Airport
Story and Photos by Jerry C. Smith
Photos by Wallace Bromberg Jr.
Peeking through a fence at Pell City's St. Clair County Airport, 9-year-old Aaron Mathis already knows without a doubt what he wants to do for a living: he will be an airline pilot. For Aaron, this little country airport would soon become a field of dreams.
Established a few years after Logan Martin Lake was first created, St. Clair Airport, known officially as KPLR Hugghins Field, would one day cater to young Aaron's aspirations, along with many others bitten by the aviation bug.
In 1966, Dr. Horace Clayton, an aviation medical examiner, secured a tract of farmland from Marlin Hugghins, a St. Clair businessman whose family still runs Hugghins Sod Farms. It was officially designated as airport property under a lease/payoff agreement with the newly-formed St. Clair County Airport Authority.
The airport's infrastructure was built by insurance magnate Kyle Vess, under the name of KV Aviation, including the field's first flight training school. KPLR was a deluxe operation from the start. The opening-day ceremony in 1966 was attended by Gov. George Wallace.
The runway, taxiway and airport grounds were kept in immaculate condition. No expense was spared to provide the best facilities and services available. Vess even built a control tower in anticipation of a great increase in air traffic, but it was never used except during air shows.
Robert Waldrop, who worked there as a lineman before moving into aircraft mechanics, tells of actually rolling out red carpets before the doors of visiting aircraft, while other linemen worked at clearing windscreens and leading edges of wings from dirt, smears and bugs, then waxing them for smoother airflow.
Robert got started in aviation at Talladega Airport as a lineman and general helper for $15 a week plus one hour of flight time, but soon moved to St. Clair, where he enjoyed a lifelong career of some 56 years in aircraft maintenance.
Discover St. Clair photographer Mike Callahan, who also worked at the airport in those days, recalls that Kyle Vess was one of those truly charismatic people whom everyone liked and trusted. He was a large man, very tall and weighing in at more than 400 pounds. Everyone appreciated the way he treated employees and customers. Many who knew Vess agree that, generally speaking, no nicer man ever ran a better airfield anywhere.
KPLR's aircraft maintenance and avionics shops were so well-equipped and proficient that planes were brought in from hundreds, sometimes thousands of miles away for service. Birmingham-based Bill Woods Beechcraft routinely used these shops. All of Vess' aircraft technicians were also rated pilots who could test-fly their work. Mike relates that the shop's manager, Gene Tuggle, was very easy to work for and understood young people.
According to Mike, one of Tuggle's top priorities was teaching his men to avoid walking into spinning propellers, which is more common around airfields than one would think. His workers and other airport personnel got reduced rates at the flying school. Vess would also help them go to college. Mike says the avionics shop, managed by Horace Diehl, operated around the clock in times of special need.
A popular hub
St. Clair Airport became a base for several military reserve units, such as 87 Maneuver Area Command (aka 87th MAC), and the 121st Aerial Recon Wing. Military versions of civilian aircraft were kept there, including Beechcraft Queen Airs, UH1 Huey helicopters, DeHavilland Beavers, L19 recon planes, OH58 Bell Kiowa helicopters, and a host of related equipment. One of KPLR's Hueys was later recognized by its tail number in a news film as a copter being shoved off the side of a ship during the Vietnam evacuation.
The now-defunct Pine Harbor Golf & Racquet Club also had an airport connection. You knew you had become part of the local inner circle if you had a membership at PHG&R, a home on the lake, and an airplane at St. Clair airport. The club also had a seaplane facility at its Lake Logan Martin pier.
Danny Davis and the Nashville Brass visited KPLR in the 1980s in a plane emblazoned with a saxophone emblem.
However, Vess' dream of an aviation empire would soon be halted by a process better explained by accountants and lawyers. In the mid-1970s, the field was transferred to St. Clair Airport Authority, which has owned and controlled it ever since. Sadly, Mr. Vess went to jail.
After the changeover, a southeastern distributorship for Cessna aircraft and a new flight school were established under the aegis of Sunny South Aviation in Florida. The flying school kept Handy Ellis and two other instructors busy training new pilots and re-certifying others with former military air service.
Present airport manager Bob Brown ferried new Cessnas from the factory to Sunny South in those days. He often stopped for fuel and a layover in St. Clair, never suspecting he would one day manage the airport.
Although a little belt-tightening became necessary, St. Clair Airport remained in service as a general aviation field which would soon became a mecca for area recreational pilots.
$50 hamburgers
Aaron is in Seventh Heaven. Having arrived at Sammie's Touch & Go just after the doors opened, he is soon surrounded by dozens of veteran pilots, weekend patch pirates and hangar bums. The grassy field in front of Sammie's hosts three or four dozen small aircraft, vintage warplanes, ultralights, even a powered paraglider. Aaron's left ear is glued to a hand-held aircraft scanner as even more pilots fill the local Unicom frequency with radio chatter as they vie for landing clearance.
Sammie's Touch & Go was named after its founder, Sammie Moore, and for a practice maneuver familiar to all pilots. Founded in 2000 as a place where Sammie could meet, eat and mingle with his flying buddies on a regular basis, it soon evolved into a fine public restaurant, patronized by hundreds. Their motto was DRIVE IN OR FLY IN, offering flying visitors a large, grassy aircraft parking area just off the north taxiway.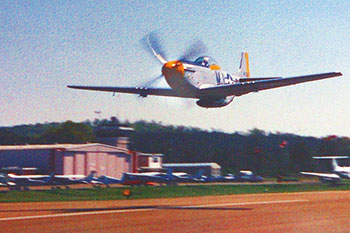 Local Chapter 1320 of the Experimental Aircraft Association (EAA) was also formed in 2000, for the benefit of dozens of recreational flyers and home-made aircraft builders who frequented St. Clair Airport. Membership quickly swelled to about 85, and the chapter was very busy for the next five or six years with all kinds of flying events and sponsorships. Sammie began holding monthly Fly-In Breakfast events to sponsor EAA1320 and to provide yet another reason for his flying friends to congregate.
Places like Sammies are where the term "$50 hamburger" originated. Pilots often traveled hundreds of miles to visit plane-friendly cafes, and since there is no cheap way to fly any kind of aircraft, it was often joked that the hamburger they ate for lunch cost them at least 50 bucks. These days, though, it's more like a hundred-dollar burger at the few such places that still exist.
Tommy Thompson, local general contractor, plane builder and pilot, said, "Everyone loved coming (to Sammie's). It was a friendly local hangout for pilots and has contributed a lot to general aviation in central Alabama."
Sadly, Sammie lost his life in March 2002 when his Breezy experimental plane took a sudden plunge into the ground shortly after takeoff. It was a devastating blow to the community, resulting in one of the largest funerals in St. Clair history. But his charisma lived on, and so did Sammie's and the monthly Fly-Ins.
On a nice Saturday morning, it usually hosted 30-40 small planes, their pilots and friends thronging the restaurant and grounds. For a small sum that went to benefit local EAA programs, visitors could gorge on eggs, biscuits, gravy, grits, pancakes, juice, hash browns, omelets and coffee while enjoying abundant camaraderie. Local folks also loved to gather at these Fly-Ins, fascinated by all those often-strange aircraft and the people who flew them.
Your writer recalls getting up before the crack of dawn to fry 18-20 pounds of thick-sliced Royal bacon, bake a hundred or so biscuits, and help with logistical chores shared by folks like 1320 President Tommy Thompson, Lynn and Bill Glenn, Terry Richmond, and any others who could be lassoed into volunteering.
Legendary landings
It was truly a wondrous place for aviation buffs, often visited by living legends like Joe Shannon and the Henley brothers — a magical environment in which young Aaron Mathis began putting a fine edge upon his chosen future in aviation.
The national EAA sponsored a program called Young Eagles, which provided funding for youngsters' first airplane rides. One fine Saturday brought a visit from an intrepid young man who was going to fly a Cessna Skyhawk around the world. Aaron was chosen to take his official Young Eagle flight with this adventurer.
Actually, Aaron had been aloft in a small plane once before at St. Clair as a gift for his eighth birthday, but on this day he was actually allowed to handle the controls during the flight!
Bill, Lynn and Chris Glenn hosted many Young Eagles' functions in their superbly equipped hangar near Sammie's. Bill is a retired United Airline pilot, and Lynn is a pilot and expert aircraft restorer. They have since relocated to a private airfield near Wilsonville, but during their tenure at KPLR, the Glenns' hangar was the hangout of choice when Sammie's was not open.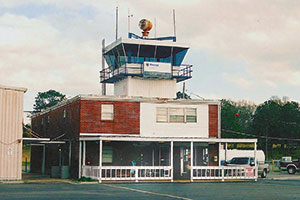 Another noteworthy denizen was Ed Stringfellow, who holds ratings on more types of airplanes than he can recall all at once. Ed had the largest hangar at the airport — some 12,000 square feet. At one time, this cavernous building held a Mitchell B-25 bomber, a North American P-51 Mustang fighter, a North American AT6 Texan advanced trainer, a Piper J3 Cub and a BSA motorcycle. Ed loved old planes and employed expert mechanic Ted Campbell full-time to maintain his flock of collectibles. Robert Waldrop has also worked for him. Over the years, Ed has owned a Cessna 310 twin and several Beechcraft Staggerwing biplanes, plus a number of other small craft.
He came to St. Clair in 1978 looking for a place to hangar his 310, which he flew in connection with his lumber business. Over the years he's racked up thousands of flying hours, and holds every rating possible for propeller-driven aircraft, including certified flight instructor.
Ed built his first hangar at St. Clair in 1988, later erecting a much larger one to hold the B-25 bomber he had just bought. But his pride and joy was Tiger Lily, his beloved P-51 Mustang. People used to rush to the airport every time they heard him flying overhead because they knew he always made a sizzling, low-level, high speed pass over the field before landing.
P-51s were the hottest fighters of World War II, the best ever built. To hear one pass by just a few yards away at full speed, its engine ablaze with raw power, is an unforgettable experience. Ed's Mustang fly-bys were the highlight of many a weekend day at St. Clair.
Now 86, Ed still flies. He, too, relocated to Wilsonville, but has reduced his covey of vintage warbirds to a single Boeing Stearman WWII-era trainer biplane.
Tommy Thompson's ¾ scale Loehle P5151 Mustang was a superbly crafted knockoff of the real thing, much admired at air events. Tommy has built and sold three of them, and was working on a ¾ scale Spitfire based upon the same fuselage, but was unable to complete it due to various events that would forever alter the field's persona.
Change in the wind
True to the axiom that the only real constant is change, in recent years KPLR has gradually evolved from its previous, free-wheeling format to more of a mainstream player in general and corporate aviation. The old FBO (air terminal building) where all gathered to chat, drink stout coffee and critique each other's landings was torn down and replaced with a new building constructed to current FAA standards and the needs of a modern air facility.
Fly-in breakfasts gradually faded away as attendance fell off for various economic, personal and logistical reasons, finally resulting in the dissolution of EAA Chapter 1320 and a turning point in local interests. Some hangar tenants relocated, while others sold their planes and moved to other ventures.
The good folks at Sammie's later tried to revive the Fly-Ins to benefit a local charity, but that effort was short-lived. Eventually, Sammie's closed its doors to the local daily dining scene, but Sammie's daughter and son-in-law, Michelle and Craig Frickey, still use this unique venue to host receptions, holiday parties, meetings and other catered affairs.
Vital modifications were made to the taxiways and runway, a large parking apron was built in front of the new FBO, several large, improved hangars were added, and an automated weather-reporting system tower was installed in an area once used as a landing zone by a skydiving club.
It's a place with great potential. Terry Capps, Airport Authority member and former field manager, says KPLR will always be a general aviation airport, plus, the FAA now has it officially listed as a "reliever" airfield for larger airports like Birmingham. There is a new flying school on premises, Etheredge Aviation and Flight Training Services, to fill the void left by long-time instructor Jim McLeod, who has retired to Tampa, Fla.
Ed Stringfellow helped negotiate for state and federal grants to fund these improvements, often dealing with Aviation Commission Chairman Gene Tibbets, son of World War II bomber pilot Paul Tibbets, whose plane, the Enola Gay, dropped the atomic bomb on Hiroshima. No doubt the P-51 rides Ed provided for various notables helped smooth the way.
Even with its changes, St. Clair maintains a lot of the old spirit and fellowship. Pilots still gather for coffee at the new FBO and its spacious pavilion overlooking the apron and runway. Many hangars still shelter experimental and light sport aircraft. New aviators still learn to fly and still get their shirttails cut off upon completing their first solo flight.
There are several familiar faces there, folks like former Pell City mayor Bill Hereford, who once owned three planes at St. Clair but is now down to a single Piper Archer named Baby. He got his license in 2003 at age 63 under the watchful eye of his instructor, former Pell City Councilman Donnie Todd.
Ron Gilmer is another St. Clair stalwart whose favorite thing was taking kids up in his superb Cessna Skyhawk, 53Romeo that every local pilot, your writer included, loved to fly. Other flyers include Joe West, retired Birmingham fire chief and ultralight pilot; Discover St. Clair photographer, Wally Bromberg with his Piper Tri-Pacer; Terry Capps, Airport Authority member and Ercoupe pilot; and attorney Erskine Funderburg, who is also chairman of the Airport Authority.
Other Authority members are Mike Fricker, Joe Suttle and Pell City Police Chief Greg Turley. The airport facilities are currently managed by Robert Brown, a retired Delta Airline captain.
Bob has impressive credentials, having spent most of his adult life working around airports and aircraft. With more than 20,000 hours of accident-free flying time in airliners, freight haulers and numerous smaller craft, Bob knows about airplanes and aviation.
He got his wings in Miami in 1963, earning his license in an Aeronca Champ. After serving in the Air Force, he flew freight service in a Lockheed Electra, hauling varied cargoes from racehorses to bundles of new shirts being delivered to Bogota, Colombia.
After taking his position at KPLR about a year ago, Bob has made several safety improvements, such as daily runway inspections to remove foreign objects and debris that might cause damage to aircraft and their engines. Fuel tanks and supplies are monitored daily for condensation and tampering. He also provides full training for linemen in safety and fire fighting. Bob is working with the city to get a full-time fire truck on premises.
He says that around 90 airplanes are based at St. Clair. The field has proven very useful for search-and-rescue operations, aerial real estate showings and utility/power line surveys as well as a base for banner tow-planes, advertising blimps and crop dusters. There are two large corporate hangars on field, and companies are encouraged to build their own, using a ground lease arrangement.
Ron Gilmer's nephew, Rickey, now operates an airframe and engine repair service called Gilmer Aviation in a large hangar once occupied by Christine Beal-Kaplan's SARCO (Small Aircraft Repair Company). Holder Aviation handles avionics services in another hangar.
And what of our wide-eyed youngster, Aaron? Well, he soloed in 2012 at St. Clair under the guidance of Jim McLeod, proudly sacrificing his shirt tail to hang on the wall at the FBO.
He's 19 now and well on his way to a commercial air transport license. A student at Wallace State in Hanceville, Aaron is involved in an intensive aviation syllabus involving dozens of flight hours each month.
He says the time is right for new transport pilots because most of the Vietnam-era crossover pilots are now retiring. He feels that commercial aviation is leading the recovery from America's general economic slump.
No doubt he will always treasure the days spent at KPLR as a child, looking through the fence, not over it, and dreaming of the day when he would say, "Ladies and gentlemen, this is Captain Mathis. I'd like to welcome you aboard our flight to. …"
Hearing that as an airline passenger would certainly make my day, too.