Once the heartbeat of local communities
Story by Joe Whitten
Submitted photos
Schools were the heart-beat of communities for most of St. Clair County's past 200 years. Wherever folk settled in the county, they soon organized a school which became central to community activity. Information is gleaned from newspapers, local and family histories, and diaries for some schools. For others, only a remembered name.
Lost town of Easonville housed thriving schools
About 1820, Bolivor Eason settled in Coosa Valley. Other families came, and by the end of the decade, the settlement had its first school, which met in homes. By the 1860s, classes met in the Coosa Valley Baptist Church.
When the post office came in 1872, the town became Easonville. By the1880s, Coosa Valley High School was established there in a one-story building. Later, they constructed a two-story building containing an auditorium and classrooms, and it served Easonville, Cropwell and Mt. Pisgah.
Vera Wadsworth recorded these prominent Alabamians associated with Easonville schools:
Dr. Henry J. Willingham, state superintendent of Education and later president of Florence State Teachers' College.
Dr. John W. Abercrombie, state superintendent of Education, member of Congress, and President of the University of Alabama.
Dr. Issac W. Hill, state superintendent of Education.
Dr. Thomas Neal, president of Howard College, now Samford University.
Today, the waters of Lake Logan Martin lap over the lost town of Easonville.
A log school was located at Mt. Pisgah Baptist Church. Lee Wadsworth (b.1872) recalled the building as a crude one, constructed in 1870 and located on the ridge where the cemetery is today. In the 1880s, the community built a better school that contained benches with backs, glass windows and a heater for winter. Maurine Sims, in A History of Mt. Pisgah Baptist Church, states that when the school was torn down, the wood was used to build a barn.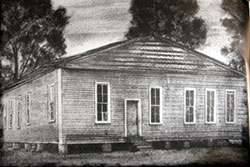 Eden school has storied history
The date for Eden's first school is uncertain, but New Hope Baptist Church was organized in 1824, and where there was a church, there was usually a school. A Dec. 15, 1960, St. Clair News-Aegis article says that in 1875, Eden school was a log building located on Wolf Creek Road. The later three-room school was located where the church gym stands today. That building was used for both school and church until about 1900 when a separate two-story school was constructed. A tornado in the 1920s damaged the school, but it was repaired and used until 1948 when classes moved into a new building.
Cook Springs School lasted until 1950s
Cook Springs School, located near the hotel and the Baptist church, began in the 1870s and continued classes for more than 70 years. In The Village and Its Neighbor, Anita Smith writes that Russell Carreker donated the land for the first school. Then in 1914, LaFayette and Eliza Cooke donated additional land, and a larger two-room school replaced the first building. Smith states that it was a spacious building, having "large windows, a foyer-like hallway…, a big pot-bellied stove that provided better heating, and a bit of space set aside for a coat closet." Outhouses served bathroom needs; hand pumps outside provided water. The school closed in the 1950s.
Mining company associated with five schools
The DeBardelabens' Alabama Fuel and Iron Company operated schools in their mining communities of Margaret and Acmar. Fred Marvin's history, Alabama Fuel and Iron Company and Its People, boasts that in addition to the schools on company property, the company partnered with the St. Clair County Board of Education to operate the schools at "Low Gap, White's Chapel, and Copper Springs." Marvin's history states that in taking the three schools, the company "… rebuilt the structures, making them neat and attractive and assumed all expense attached to their maintenance, although many of the children attending are not those of company employees." In both White's Chapel and Low Gap, which accommodated white children, the buildings were of field-stone construction. There's no record of work done at Copper Springs School in Branchville.
White's Chapel School closed at the end of the 1960-61session. Afterwards, these students attended Moody schools through the ninth-grade and then St. Clair County High School until the Board of Education established Moody High School.
Low Gap School burned Feb. 13, 1946. Students finished the year at Low Gap United Methodist Church, but in the fall, these students began attending school in Odenville.
In Margaret, the company provided schools for both races. For the white community, the schoolhouse was at the top of School Street. According to Marie Butler in Margaret, Alabama … and now there's gold!, in 1916 Thomas Glover was principal and "taught by the Golden Rule." Two early teachers were Elma Lee Sansing and Annie Laurie Merritt, both teaching multiple grades. The first school, c1916, burned in 1924, and the company erected another building which also burned in 1941. A wood-frame replacement served as the school until it closed in 1965.
For the black community, the two-story St. Philips Methodist Church/Beulah Baptist Church was finished in 1918 as a community building. School met in the downstairs, and church met upstairs with Methodists and Baptists meeting on different Sundays. This continued as a school with Professor S.J. Dillard as principal until the 1930s when a school was built in the black community on today's South Hillcrest Street.
Marie Butler records in her book that Professor Dillard served as principal until his retirement in 1953. Then, Mrs. Eddie Lee Turnbough Franks, Professor Dillard's student, became principal. Mrs. Bernice Holston Young and Mrs. Alberta Jones also taught in this school in the 1950s. Professor Dillard's son and student, Oliver W. Dillard, made a career of the Army and retired as a brigadier general.
In a brief history of Copper Springs Baptist Church, William Ragland records that the first school building was used for both school and church. The log building, built in 1873 by the Formans, Turnbaughs, and Vandegrifts, stood until the late 1800s when it was torn down and replaced by a frame building.
The first teachers at Copper Springs were Mrs. Mary Forman and Professor Hawkins. Mrs. Eddie Lee Franks taught there in the 1930s. Although Fred Marvin's history says the DeBardelabens helped the Copper Springs School, Mr. Ragland didn't mention it in his history or in a 1990s interview with this author. This school closed in the 1940s. Then, depending on the grade, students went to Margaret or Ruben Yancey in Ashville.
In Ashville, Yancey School has historic roots
Ruben Yancey School was a continuation of the first school for black students in St. Clair County. Mrs. Bessie Byers wrote of this school, saying, "Ashville's first school for colored children was housed in the 'Old Hall,' which stood below the Methodist Church located on what today is known as 10th Street." On April 15, 1872, Pope Montgomery and wife deeded a building to the Methodist Episcopal Church "to serve as a church and a school for colored children." Student numbers increased until some classes met in the Methodist Church.
By 1935, they needed a new building, and the Board of Education bought from James Beason three acres on a hill top known as the "Jim Beason Pasture." Here, they constructed a three-room, white-painted frame building, well lighted by windows. This was named the Ashville Colored High School, which served grades one through 12.
Ruben Yancey, an Ashville native, became principal in 1947 and served until 1956. Mrs. Byers wrote: "Because of his humanitarian efforts, the community grew and became a better place to live."
Professor Yancey worked toward getting a larger facility with a lunchroom and a library. This came to fruition in the 1950s with help from Ashville's white citizens. Forced into retirement by poor health, Professor Yancey did not live to see the building finished.
At completion, Principal Lloyd Newton and school friends requested the County Board of Education name the school Ruben Yancey in honor of the man who had labored for the betterment of their community and school. Superintendent D.O. Langston and the Board honored the request. Professor Newton remained as principal there until integration and then finished his career as principal of Ashville Elementary School.
DAR School took its place in history books
Six miles north of Ashville on US 411, the DAR (Daughters of the American Revolution) School stood adjacent to Hopewell Baptist Church on a five-acre plot purchased by the State of Alabama in 1917 from Thomas S. Black and wife, Katie J. Black. This school operated until 1924 when it was relocated to Gunter Mountain, Marshall County, because that mountain area needed an accessible school.
Some years ago, Charles Pruett Fouts, Sr., who had attended there, recalled classmates as being Willis Hood, Arvil Glenn, Clyde Vaught, Phillman and Warren Knight, Eugene and Elbert Sprayberry, O. A. Hood, Fletcher and Ed Sheffield, and Alvin and Oscar Roberts.
Zion Hill, Gum Springs lay claim to school history
Ada Wilson Sulser (1897-1988) wrote about Zion Hill Schoolhouse, located next to Zion Hill Methodist Church on today's Highway 33 in Slasham Valley. Having begun school there in 1903, she remembered it as a one-room school with classes meeting from November to April, weather permitting. The school burned twice, in 1903 and 1914.
Mrs. Sulser recalled the families of Cobb, Lowery, Palmer, McBrayer, Jester and Jenkins. Her teachers were Lena Shore, Tom McDaniel, John Gunter, Mr. Allman, Will King, Lonnie Kirby, Lewis Wright, Earl Palmer, John Teaver, Ethel Gilchrest and Lilly May Merchant.
Mrs. Sulser also mentioned the Ford Schoolhouse near Gum Springs Baptist Church and that the Baswells, Kirbys and Willards attended there.
Argo schools remembered
Earl Massey in his monograph "Argo Schools, 1820-1953," wrote of Reed's Grove School, stating that H. B. Venable and wife gave two acres on Blackjack Road for a school. He gives no date for this, but notes that in 1920 G.W. Minyard deeded one and a half acres to the State of Alabama to be a part Reed's Grove School. In 1947, after the school closed, the County Board sold the property back to Mr. Minyard.
Massey also writes of Fairfield School, in the Wade community, on today's US Highway 11 where it crosses I-59. Quoting Gordon Melton, student there in the 19th Century, he records: "There was a one-room schoolhouse on our farm facing the 'big road' as we called it then (Highway 11). … Fairfield School was about 150 yards from our house." Melton recalled a school session as four or five months during fall and winter, when children could be spared from farm work, and wrote that some years as many as a hundred students enrolled in the one-teacher school. He remembered cows grazing around the school and the constant ringing of their bells disrupting class until boys would go chase the cows away. The school closed in 1930 and the School Board sold the property to Addie Waldren.
Springville 'college' not really a college
In Springville, Spring Lake College opened in 1893.This school consolidated the two existing high schools.
Although "college" was in its name, the grades covered were primary through high school. Tuition ranged from $1.50 for the primary class to $5 for the senior class. The curriculum included basic English and math but also offered:
Elementary Algebra and Latin, seventh-grade.
Word Analysis, French History, and Latin Grammar, eighth-grade.
Rhetoric, Philosophy, Cicero's Orations, Higher Algebra and Geometry, freshman year.
Geology, Zoology, Botany, Latin Prose Composition and Horace, sophomore year.
Logic, Psychology, Chemistry, Cicero de Oratore, and Trigonometry, junior year.
American Classics, Political Economy, Mental and Moral Science, Evidences of Christianity, Astronomy, Analytical Geometry, Parliamentary Law and Oratory, senior year.
Greek was offered as well. For additional fees, students could take music, art or commercial classes of bookkeeping, shorthand and typewriting.
The Spring Lake College Catalogue for 1894-95 states that the school "…is the result of combining the two flourishing high schools of Springville under one management." It speaks of Springville as "a community of the highest type of American citizenship," and that "one of the chief glories of Springville is found in her ample facilities for lodging and feeding all who sojourn within her gates. Pupils are taken into the best families of the town. …"
Margaret Windom writes in her History of Springville that "On February 10, 1896, the Cumberland Presbyterian Church deeded the town of Springville the "building and ground known as Springlake College." On Feb. 8, 1912, the school burned, and Springville constructed a two-story brick building which was used by Springville High School into the 1970s.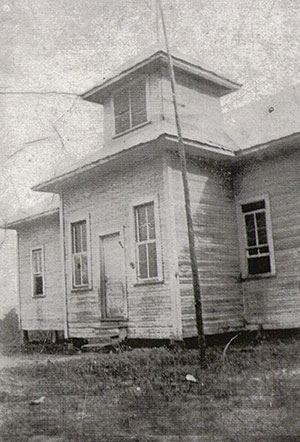 Early 20th Century schools no longer here
From Bethel community up US 411 almost to US 231, there existed several schools in the early 20th Century.
Bethel School stood across the highway from Bethel Baptist. A photo from the 1930s shows the student body with teachers I.W. Inzer and Mrs. Prickett.
Odenville was first called Walnut Grove and so was the school, which was probably organized shortly after the Hardins and Vandegrifts settled there in 1821. About 1864, a one-room log structure heated by a fireplace was constructed near today's Pennington Garage. Jim Hardin was teacher. His school bell is in the Fortson Museum.
Much later, the area school was at Liberty on the Liberty Church property. The last year there was 1906. In 1907, Odenville Elementary School was built under the leadership of the county school system and began operation. This wooden building burned in the mid-1920s and was replaced by a field-stone structure.
Well into the 20th Century, there was a school for black students at Hardwick, off today's Pleasant Valley Road. William Ragland recalled that Miss Mattie Johnson, teacher, often had as many as 90 students enrolled.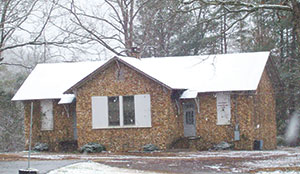 Friendship School, of field-stone construction, still stands today and is owned and used by Friendship Baptist Church. Though the date of origin is obscure, in the 1920s, C.J. Donahoo was principal, and Mrs. Bertha Bowlin was a teacher.
According to The Heritage of St. Clair County, Pine Forest School was on US 411 "west of today's Pine Forest Baptist Church." This school began operation around 1917 and continued until it closed in 1939. Henry Cash bought the building and property about 1947. Some years later, the Cash family sold the property to Clyde and Stella Mae Thomas.
Pell City had its share of schools
In Pell City and surrounding communities, several schools existed for black students. In an interview, Mrs. Marion Frazier referenced schools in New Town, Riverside and Greenfield. She named Morning Star in Ragland and Mt. Zion in Cropwell, and recalled that her mother spoke of New Life School, but didn't recall its community location.
When asked about a school before St. Clair County Training School, she named the 1927 Rosenwald School. According to the Encyclopedia of Alabama, Julius Rosenwald, president of Sears Roebuck & Co., created the Rosenwald Fund to provide matching monies for schools in the rural South. In 1914 in Alabama, that fund helped build six schools for blacks. St. Clair County wasn't mentioned in the article; however, Rosenwald School is remembered locally as the forerunner to the St. Clair County Training School.
This school was in the county school system, and the first seniors graduated in 1947. The last senior class graduated in 1969. With integration of county schools, the Training School became the Walter M. Kennedy Elementary-Intermediate School. Today it is Duran South. The Kennedy Elementary School was relocated to 19th Street.
Mrs. Frazier, a 1962 graduate, talked of the activities at the school, mentioning especially the choir and the band. Geneva Martin's memories, written for the 50th reunion of the 1966 class, spoke of the homecoming parades, of Mr. Larry Turner leading the band in the parade, of dances after football games, of student variety shows, and of walking to the National Guard Armory for basketball games until "Mr. Kennedy's efforts paid off in having an auditorium built." She recalled Mr. Kennedy's requiring men teachers to dress professionally by wearing ties.
Of the 1966 graduation, Ms. Martin wrote, "We walked across the stage with pride and our heads high. … We had a stern warning from Mr. Kennedy. He said remember, there were no actual diplomas in our books, and if we messed up that night, we would not get one. Oh, yes, we had to attend the last day of school. That's how Mr. Kennedy rolled."
Walter Kennedy finished his career as assistant superintendent of Education in St. Clair County.
Leaping Lizards! What kind of name is that?
The most unusual name for a school must be Lizard Lope. Located east of Ashville on today's Highway 411, it was later called Union Grove—but no one knows the date the name changed. Tradition says the name arose when logs were being dressed and stacked for constructing log houses. Lizards would sun on the stacks and leap from log to log. Thus, Lizard Lope. l
Editor's Note: St. Clair County is rich with school history, and there is much more to be mined from various sources. Discover Magazine encourages communities to collect and record history during this bicentennial year. We are fortunate that Lizard Lope did not lope into oblivion. Long live the memories.