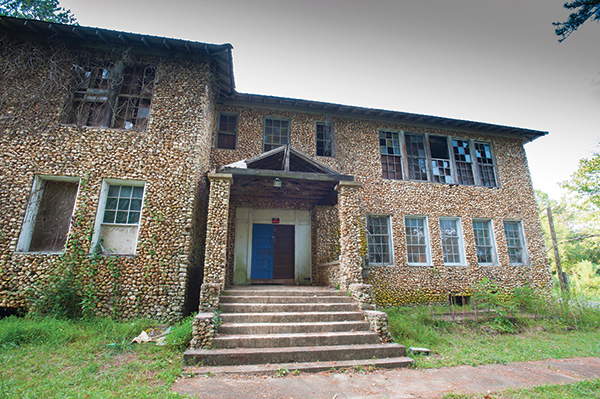 A valiant effort and noble cause
Story and Photos by Jerry C. Smith
Submitted Photos
When Springville Preservation Society's Frank Waid escorted me into the upper level of an old rock school building on Pine Street, I was immediately struck with its ambience of antiquity.
Even by flashlight, I could easily discern beautiful hardwood floors which were well-worn by thousands of young footsteps, as well as the aroma of stone, wood, blackboard chalk and paint, seasoned to a robust sensory patina by almost a hundred years of service.
Completed in 1921 by local stonemasons and a host of community workmen and volunteers, this fine structure replaced an even older one of wood that had burned to the ground.
Most of Springville's core population has educational and emotional ties with the rock school. While its past was certainly illustrious, its present is in shambles. But if certain good residents have their way, it will arise from decrepitude and serve its people once again.
The school's bones are of native rock, mostly immune to fire and other natural forces that easily erode and destroy lesser materials. Built upon a solid core of thousands of rounded chert "field stones" that make up its outer walls and foundation, it's constructed in a manner that's an art form unto itself.
It was an enormous job, even for master stonemasons like Jackson McFadden Riddle, who built most of the earlier fieldstone structures in St. Clair and its environs. He's reputed to have supervised this job as well.
The usual method of building such walls is called "slip-forming," wherein a long wooden box form is built at ground level, to contain stacks of stones imbedded in mortar. Only the stones show, as mortar is kept to the backside of the form, where it creates a flat surface for interior walls.
As each layer of stones and mortar harden into a solid mass, the form is loosened, moved up the fresh wall, and the process is repeated until the wall reaches a desired height. It's very labor-intensive, requiring special skills and training.
Farmers and other citizens brought in thousands of stones by the wagonload, with horses and oxen laboring mightily to haul their weighty burdens uphill to the school site. In fact, how that hillside location was chosen is a story in itself.
Springville native and historian Donna Cole Davis explains that city fathers wanted to place it there so drivers on US 11 and train passengers could get a grand look at their local pride-and-joy – a fine new institution of education. Decades of tree growth has since blocked that viewpoint.
The early years
At first, the rock school had no indoor restroom facilities, relying on an outhouse, nor did it have central heat, instead using Warm Morning coal heaters. A coal-fired furnace and rock chimney were later added. This furnace still resides in the basement, but is no longer operational, and its chimney has since been removed.
The facility opened in 1921 as a high school, whose curriculum was scheduled on a trimester system; i.e. Senior I, Senior II, Senior III.
Their yearbook, mysteriously called The Rocket, was first published in 1928, long before a national involvement in rocket science. In fact, the only real rocketry interest in those days was represented by Dr. Robert Goddard's pioneering work.
He launched the world's first liquid-fueled rocket in 1926, shortly before the Rocket yearbook was created. If this is the Rocket's namesake, perhaps the folks in Springville were looking farther ahead than we realize.
For a small Alabama school in the Roaring 20s, Springville High was surprisingly urbane. Thumbing through the 1929 Rocket, you can find several academic and special-interest clubs, vocational courses, sports and a sizable faculty of well-trained teachers. The women's basketball team was considered top-notch.
A 1971 St. Clair News Aegis photo of the Class of 1924 lists students and teachers whose surnames are still found in Springville and its environs: McGinnis, Futrell, Sterling, Jones, Gill, Davidson, Crow, Richardson, Perrin, Horton, Pearson, Martin, John, Moody, Wright, Taylor, Walker, McDuffie, Stevens, Meyers, Simmons, Woods, Vinyard, Robinson, Presley, O'Barr, Wilson and Box.
It served as a high school from 1921 until 1932, when a larger facility was built a few hundred feet away, then became a grammar school until the 1960s, when that function was also taken over by a more modern building in its very shadow.
Until its eventual closing for safety reasons in the 1990s, the building served variously for civic groups, clubs, Boy Scouts, band room, and a work office in the basement for the local water board. It was even used for a few years as a Halloween haunted house, whose ghoulish graffiti can still be seen on walls.
The next generation
Sandra Sullivan DeBerry, who attended grammar school there, was especially fond of a certain first-grade teacher, Margaret Byers, affectionately known by her pupils as Miss Margaret.
She was a dynamic, petite woman who would be called a Little Person in today's world, but she made a huge impression on her students and the people of Springville. Sandy says, "You couldn't ask for a sweeter person in the world than Miss Margaret." But she wasn't always a teacher.
Born 1901 and raised in Springville, Margaret attended Huntingdon College in Montgomery, where she developed a love of music that led her to perform in several Broadway shows, including Babes In Toyland. After returning to Alabama, she studied teaching, thence to Springville Elementary.
Sandy mentions another teacher, Mrs. Crandall, whom practically every kid raised in Springville will remember because she was known as a strict disciplinarian who put up with no foolishness. Mrs. Crandall played piano for Sandy's wedding.
Mrs. Crandall's classroom was at the foot of the main staircase. Any footfalls or squeaks from the stairwell during class times would bring her running to check it out.
Other teachers remembered by Sandy, Donna and Frank were Mses. Marshall, Cash, Hayes, Walker and Wright, who's the only one still among the living.
There was no lunchroom. Both Sandy and Frank recall walking about half a block down the hill on a well-worn dirt path, which Frank likened to a cattle trail, to use the dining hall at the newer school. He said that on really bad weather days a school bus would transport them, but most of the time they were expected to walk.
Sandy relates that during recess they played jump rope, jacks, used the swings, snuck off into nearby woods, even visited a cemetery close byS.
There were no electric bells to signal class change or fire drills, only a hand-bell rung by the principal — easy to hear because of the building's compact design.
Today
The school's present condition inspires mixed feelings. For one, visitors cannot help but marvel at the solidity of the old structure and obvious quality of materials and skills used by its craftsmen. If there was ever a building with reconstruction potential, it's Springville Rock School.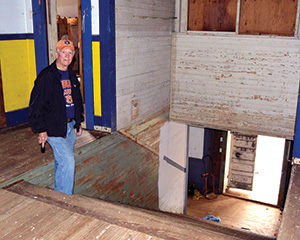 On the other hand, floors are littered with a veritable snowfall of white flakes of ceiling paint and decades' worth of other detritus. In some secluded spots, there is bat guano. Leftovers from several former users are piled here and there. Reconstruction materials are stacked haphazardly among the chaos.
The Springville Preservation Society has already purchased a number of windows, almost identical to the originals, and is now in the process of priming, painting and installing them. Clearly, several dumpsters will be filled once work begins on a larger scale.
Among their goals is a room partly furnished in the appearance of a classroom. They also anticipate meeting rooms and assembly halls for everything from weddings to civic and club gatherings to reunions.
The old school fairly breathes nostalgia, from its main staircase with steps that show the wear and tear of many children's feet to its ancient fixtures and random educational trappings.
You can almost imagine the kids' respectful silence and quiet shuffle of feet between classes as well as the hum of teachers teaching and pupils responding, as all those muffled sounds of education in progress might have harmonized in common areas.
One is struck with rightful dread that such a finely crafted and historically important edifice would have ever been considered for demolition. This place deserves to live on, hopefully as a proud venue for an almost unlimited variety of future community service.
In short, this fine lady demands respect. The Springville Preservation Society is the key to making this happen.
Formed in 2009 for the purpose of saving several Springville heritage sites, the Society now owns or controls the rock school, the old Masonic Lodge that until recently served as the town's library, and a small white house near the spring basin that was once part of a local hotel. Much work has already been done on the Lodge and house.
Donna Cole Davis only went to kindergarten there in 1966, but both her parents attended it as a grammar school. Donna explains her reason for getting involved: "One of my father's (Don Cole) final wishes was that the old school be saved so that others could enjoy its history. I knew this was something I really wanted to do in his honor. There needs to be a beautiful lady sitting up there on that hill once again."
Building a future
When asked how interested people could help this process, both Frank and Donna's answers were virtually the same: Get involved.
The Springville Preservation Society is currently led by Frank Waid, president; Millicent Yeager, vice president; and Sean Andrews, secretary and treasurer. They meet the fourth Saturday of each month at the Springville Museum and Old Library and Masonic Hall.
The museum itself is open on first and third Saturdays. It's one of the Society's work projects that clearly showcases their expertise and dedication to purpose.
Any of these highly-dedicated folks can help you get into the school project at any level you choose. Even if you don't elect to participate directly, simply telling others about it will help make more people aware of what's going on.
Citizens are invited to join work parties whenever they can, even if only for a few hours. It's a volunteer effort all the way, but the Society's small cadre of dedicated workers can only do so much.
The restoration project is a perfect opportunity for civic groups, Scout troops, historians and anyone else who values heritage to the point of working up a bit of sweat. The Society hastens to add that monetary donations and fund raisers are a vital part of the effort and remind us that much of this kind of support is tax deductible.
Most of the stories I've brought to our readers over the years have had clearly defined endings, sometimes even catastrophic ones. It would be a special privilege for me to see this one take on new life as well as a dynamic future of community service.
Let's work together for Springville's old school and for St. Clair heritage in general.