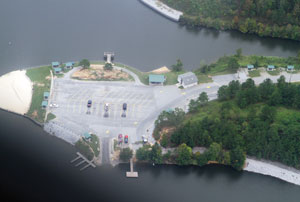 A tale of two campaigns
By Carolyn Stern
Photos by Jerry Martin
It's been called "The County's most historic site" by many. Fort Strother, which would be almost 200 years old today, was an important stepping stone for President Andrew Jackson in his campaign against the Creeks. But where is it? The answer is, you just can't get there from here.
In the early 1800s, the new country of America was a mass of movement. Opening new land to settlement was never expected to be simple. In Alabama, it meant that the native Creeks would lose land they had long considered their own, and they began to fight back.
"Legend has it that late in the year 1812, Chief Cataula called a council of war at Littafatchee, a village on Canoe Creek, several miles from present-day Ashville," writes Mattie Lou Teague Crow in her "History of St. Clair County." Several skirmishes and a bloody battle at Burnt Corn Creek showed that the hostile Creeks (called the Red Sticks) had declared all-out war.
On Oct. 7, 1813, Gen. Andrew Jackson of Tennessee took command of a small company of infantry troops and headed toward the trouble spots in what is now Alabama. Many volunteers joined Jackson because they felt their homes and families wouldn't be safe as long as the Indians were on the war path.
One of those volunteers was Davy Crockett, who was well known for being a troublemaker. An example is shown in a biography called "In the Footsteps of Davy Crockett" by Randall Jones. After 60 days with Jackson's army, he and his volunteers began to get restless and were ready to go home. In one camp situation, Crockett said he and the volunteers loaded and primed their rifles and walked across a bridge to leave, despite Jackson's order that a cannon be aimed and readied for firing at anyone who crossed. They weren't fired on, he declared, but Jackson said they were "the damned'st volunteers he had ever seen in his life: that we would volunteer and go out and fight, and then at our pleasure would volunteer and go home again in spite of the devil."
Jackson marched his army to Fort Deposit on Oct. 11 and established a supply depot. From there he headed directly south from the Tennessee River toward Ten Islands. Part of his army went ahead to cut a road that eventually stretched about 50 miles. This route became known as Jackson's Trace and was still used after Alabama became a state.
No written evidence has surfaced that Jackson ordered a fort to be built at Ten Islands, but the indications are that his plan was to establish this second step in his supply system and work south. Some historians think Jackson gave the fort the name of Strother to honor Gen. George Strother Gaines, Indian factor to the Choctaws. Others say Jackson named it for his topographer, John Strother. An excerpt from one of Strother's letters infers that was a dubious honor.
"The evil spirits, stated by the natives to reside in a deep hole in the Ten Islands, have surely employed all their mischievous machinations to prevent this post from being supplied with provisions. …"
Through the beginning days of General Jackson's campaign in Alabama, his men had to forage en route because a supply system hadn't yet been set up. Eventually four forts were established: Fort Deposit, Fort Strother, Fort Williams and Fort Jackson (built on top of Ft. Toulouse) close to Dadeville.
As soon as he reached Ten Islands, Jackson sent men to cut trees for the stockade. Fort Strother was used by the general during 1813 and 1814 as his headquarters throughout the conflict with the Creek Indians.
Charlie Brannon, who has researched the fort's history for 40 years and has known about it longer than that, has the facts at his fingertips. "I grew up not far from where the fort was, and I used to wander around and find arrowheads and other such stuff there."
Brannon says the fort was about 300 feet by 350 feet. "Jackson's men cut down trees, split them, carved picket posts and stood them in post ports with the flat sides to the inside." Jackson and some of his officers stayed inside the stockade while most of his men camped outside in mud huts, he adds.
Records show that the fort included three large parade grounds, four separate camps — militia, infantry, calvary and at least 300 friendly Indians, mostly Cherokees but some Creeks. They wore white feathers and white deer tails to distinguish them from the hostile Native-Americans.
Food was of primary importance since the army numbered 3,000 men when it reached Fort Strother on Nov. 1, 1813. (Crockett and his friends were in and out.) A hundred to a hundred and fifty cattle and hogs were maintained, and cribs and storage bins were built to keep the grain dry. The whiskey supply (for medicinal purposes) required a building measuring 144 square feet. It was always kept under lock and key and was well guarded.
After all the forts were established, wagons with supplies moved continually down the line of forts because Jackson wanted to have at least three weeks' supply of everything needed to support his army when they met the Indians in their final battle. On March 27, 1814, Jackson's army defeated the Red Sticks at Horseshoe Bend.
In 2000, a joint project by University of Alabama archeologist Carey Oakley, Charlie Brannon, Richard Perry and community volunteers, as well as students from Jacksonville State University and Troy University, examined the land. Perry has written a detailed report of the fort's history, "The Historical Significance of the Creek Indian War of 1813-14, Land Use and Archaeology of Fort Strother in St. Clair County, Ala."
A cemetery had already been identified, and a ground-penetrating radar device found anomalies in the soil. Some were confirmed as being human remains. Some post ports and evidence of the moat that surrounded the fort also have been found. Brannon says that 187 artifacts from that project are in the Alabama Archives at Tuscaloosa. "Also, 57 graves of those soldiers who served under General Jackson have been identified. Some of them were killed in battle, and others probably died of malnutrition, disease or injury."
He adds that other items found in the area, hand-wrought horseshoes and chains, rings and belt buckles, testify to the presence of early travelers. "Some of the articles have a Spanish connection, leading me to believe that Ferdinand De Soto or his men came this way."
Andrew Jackson had a very personal reason to remember our county, writes Mrs. Crow. "It was in St. Clair County that he found a Creek baby without family. He sent him to a friend in Huntsville and later took him home to his wife, Rachel, in Tennessee. This Creek Indian boy, Lincoya, grew to manhood in the home of the Jacksons."
Brannon says the Coosa below the dam "is pretty much as it was naturally." Researchers have determined that the fort was located on the west side of the Coosa just below the present Neely Henry Dam, and the land has had a variety of owners. Slated once for a residential community, it also was mined for sand and gravel. The only marker that memorializes its presence is beside Highway 144 near the Ten Islands Recreation Area. Unfortunately, there isn't an 1814 fort at Ten Islands that we could visit today. No glass cases of artifacts or armaments. No replicas of the stockade with the corner blockhouses, no designated cemetery area with markers yielding the names of those soldiers who died at Fort Strother. Instead, we have the connection between Ten Islands and Fort Strother, each a story on its own.
Blue and Gray Clash at the Coosa
In July of this year, shouts of summer fun echoed from the sandy beach along the Coosa River. Families picnicked within view of a cool swimming spot on a hot day. Most had passed a historical marker in a parking lot above the recreation area, but probably few had stopped to read it. The plaque tells of a very different scene on a July day.
Battle of Ten Islands
"On July 14, 1864, a small group of brave Confederate Cavalry under Gen. James H. Clanton, approximately 300 strong, were overwhelmed by a vastly superior Union Cavalry force under Gen. L.H. Rousseau. The Confederates were attempting to protect the Janney Iron Works near Ohatchee and Crowe Iron Works near Alexandria. The superior Union force destroyed both iron works and proceeded to Talladega."
If you had stopped to read the sign (at the urging of an avid historian in the vehicle, like your grandmother), you might immediately train your eyes on the lake and on the opposite shore trying to count the islands. (I know this from personal experience.)
The intriguing name is that of an Indian village that existed before the settlers moved in. It was called Otipalin, a Creek word meaning Ten Islands. The islands may no longer be visible, but the location and the story of the 1864 battle live on.
Events leading to the battle began on July 12 when Union Gen. Rousseau and his "Raiders" invaded the small town of Ashville. Their intent was to load up on supplies that "the enemy might have stored there," according to Rousseau's Aug. 10, 1864, official report to the War Department of his actions. After securing feed for the animals and food and clothing for his 2,500 men, the general and his raiders moved on.
Rousseau continued in his report, "On the morning of the 14th, I proceeded with the main body of the command to cross at a ford at Ten Islands, four miles below Greensport." The ford allowed crossing of the river, and here the Union soldiers met the Sixth and Eighth Alabama Cavalry.
"The advance was met by severe fire from the enemy posted on the east bank sheltered behind rocks and trees," Rousseau wrote. However, heavy fire that was returned by his Fifth Iowa and Fourth Tennessee Cavalries allowed the Union troops to prevail. Rousseau reported 15 Confederate solders were killed, 40 wounded and eight taken prisoner. His army continued on its way south.
Tom Cooper, Alabama Power supervisor of H. Neely Henry, Logan Martin and Weiss dams for many years, says the area was the perfect place to cross the river. "The ford used by travelers and troops to cross the Coosa was at Wood Island, where a slough came up. Wagons and horses could get across there." The crossing was natural limestone, he explains.
The 1864 battle of Ten Islands between Union and Confederate soldiers was fierce, but now the marauders are just everyday folks looking to have lots of fun. With a little imagination, they might just see Andrew Jackson and Davy Crockett crossing the river here to reach Fort Strother in the early days of the Indian wars. Or hear the guns and see the action of those long-ago events that are part of this county's history.
Park attendant Alton Griffith has spent the past five summers watching over the recreation area at Ten Islands. "People don't know about all this," he says. "We have a boat-launching area and a fishing pier, a sandy beach and shallow water access, as well as picnic tables and restrooms," he adds. "And it's all free."
After he retired from Goodyear in Gadsden, Griffith looked for something to do that he would enjoy. "On weekends in the summer we might have close to 1,000 people, and the license plates on the cars aren't all from Alabama. I like to meet and talk with people, so I like it here." So do a lot of others.
Directions
• The revived Janney Iron Works (Calhoun County) sits on Janney Road (Hwy. 77 north of 144, right on Spring Road and left to Janney Road.)
• To get to H. Neely Henry Dam directly from I-20, take Ala. Hwy. 77 north and turn left/west onto Ala. Hwy. 144.
• From the Ashville area, take U.S. Hwy. 231 south to County 26 and turn left. Continue to Ragland, pick up Ala. Hwy. 144. The recreation area is a left turn just before the bridge.