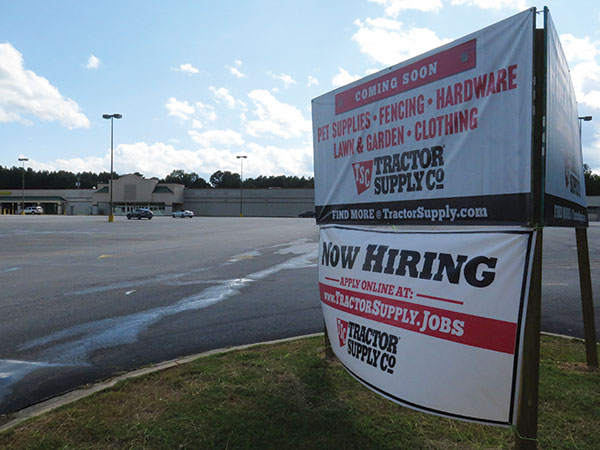 Story and photos by Carol Pappas
Photos by Graham Hadley
Driving around Pell City these days is like being on a tour of a boom town. Rooftops are going up. Steel framework for major businesses is being erected. Construction in various phases is under way in many parts of the city.
And the benefits aren't lost on people like Brian Muenger, city manager of Pell City.
"We are now seeing through a combination of factors economic properties becoming available that are desirable. They're coming onto the market, and we're seeing a lot of focus on investment on US 231 and properties adjacent to I-20."
In just the northern tip of Pell City on US 231 and I-20 thoroughfares, Town & Country Ford, McSweeney Automotive and Northside Medical Home are looming large on the economic landscape.
The old hospital property fronting I-20 is getting more than a second look of late. "Interested parties are looking that we didn't have before. Now they're showing interest."
Just across I-20, market movement is being seen in the Vaughn and Hazelwood Drive areas. "Property transactions are taking place. People are ready to develop those areas," Muenger said.
What once would have been a devastating blow – Kmart closing a little further south on US 231 – has the potential to rebound better and stronger than before. A trio of retailers is coming in – Tractor Supply Co., Martin's Family Clothing and Bargain Hunt. Tractor Supply will occupy the end and outdoor portion of the 90,000-square-foot Kmart space, and Martin's will bring its regional reputation and department store to 40,000 square feet of it. "Three retailers will almost exceed employment and sales of Kmart. It is a great thing for the community, and it says a lot about our retail community," Muenger noted.
He turned his attention to Bankhead Crossing, where a new theater, bowling alley and entertainment complex is expected to begin construction soon. The project was delayed due to design revisions, but it appears ready to deliver on its plans.
With a burgeoning Walmart shopping center and surrounding businesses, it is easy to see cause for excitement. I-20 Development President and CEO Bill Ellison, who developed those areas and is continuing to do so, predicted that "the Premiere Entertainment Center will trigger the next tier of retail development along Highway 231 and the I-20 Corridor. I think you will see the addition of more restaurants and retail box stores. It will help expand the tax revenue for the City of Pell City."
Already, businesses in that area are two of the top three revenue generators for the city, Muenger said. With the rerouting of Hazelwood Drive just across US 231 for improved access to St. Vincent's St. Clair and the Col. Robert L. Howard State Veterans Home, development in that area is opening up new growth. That project is in the design phase and readying to enter the acquisition phase.
Muenger points with particular pride to the city's recent Standard and Poor rating of AA Stable. "That's a top tier" for a city the size of Pell City, Muenger said, and it underscores a strong economy, budget, management, liquidity and weak debt.
"We expect existing business to continue to grow with new business coming into the market," Muenger said, a prospect that bodes well for the future.
"St. Clair County is often one of the top five counties in Alabama in population growth and median household income. Pell City's leaders have taken a very thoughtful approach to growth by focusing on job creation, quality of life and safety. When you create a safe community for young couples to start a family and career, it will then become the perfect environment for retailers. We are seeing this more as the Birmingham market continues to grow to the east," he said.
"Specifically, Pell City has understood that infrastructure is the key to future development and they have always invested wisely in water, sewer, and transportation infrastructure. Many people have already forgotten that at one point the bridge over the interstate had only two lanes. Pell City was willing to invest in its future.
"We believe that, with continued strong leadership from the Mayor, Council Members, City Manager and the entire community, Pell City will continue to grow and prosper."
LAH Realtor Dana Ellison couldn't agree more. She and LAH commercial broker Austin Blair have listed what has long been thought of as prime development property on the southern end of the city.
What is known locally as the Cropwell intersection, where 19th Street, Alabama 34 and US 231 South intersect, sizable acreage is being marketed and is expected to fuel substantial growth in that area.
Ellison talked about the potential in terms of convenience for anyone living south of the Kmart development. "It pulls from several counties, like Talladega and Shelby, as well as the residential areas of Logan Martin Lake and southern St. Clair County."
She noted that when grocery giant Publix decided to locate nearby in what is now the South Park development, "they looked at the demographics of that area."
And decision-makers liked what they saw.
"We have some key pieces of commercially zoned property on the market at that intersection, providing an opportunity for users needing from one acre up to parcels large enough for an entire shopping center," Blair said. "It's a real opportunity for growth."
Nearby Pell City's Civic Center and Sports Complex and Lakeside Park draw substantial traffic. Lake residents like the convenience of shopping and doing business in the area, and Ellison sees the properties that are available now as prime spots for medical offices, hardware, convenience stores, restaurants and office space.
"We're seeing new rooftops," she said, and demand is resurging. Household income is increasing, and interest in the lake is on an upward trajectory.
All those signs point toward major growth on the southern end of the city, and coupled with the growth on the northern end, Pell City appears to be in just the right spot heading into the future.
"You can get to Pell City from downtown Birmingham in just over 30 minutes most any time of day. Pell City is easy to access via free flowing I-20 compared to other growing areas near Birmingham," Blair said. "That should continue to promote positive growth."