Becoming an Argo eatery icon
Story by Elaine Miller
Photos by Jerry Martin
Butch Evans and his wife, Karen, were sitting in their den one evening, bored out of their minds, when the idea of starting a restaurant was born.
"My wife said, 'Are we gonna sit sit here like this until we're 80, falling asleep in the recliners?' "I said, 'I can fix that.'"
And that's how Crazy Horse Restaurant was born.
"I had been in the food business all my life," says Evans, who owns Evans Steaks and Seafood, a wholesale company, on Birmingham's Finley Avenue. "I called on restaurants. I didn't know whether people would accept fine dining in Argo, though."
Apparently, he had no cause for worry. Since opening in the former Denise's Country Diner location in October 2011, business has been steadily increasing. Hungry patrons looking for something besides meatloaf and mashed potatoes come from St. Clair, Etowah, Jefferson and Shelby Counties to sample the steak and seafood menu.
"The locals support breakfast and lunch, the dinner crowd comes from Trussville and beyond," says Evans.
Trying to make a unique place in the middle of nowhere, Evans didn't want a typical meat-and-three kind of place. "Anybody can slap a hamburger steak or beef tips and rice on a plate, but to have a good piece of meat is totally different," says restaurant manager Tony Green. "Quality is the key, along with freshness." Gulf Coast seafood is delivered daily and all steaks are cut fresh daily. "Nothing is frozen," says Green, who is Evans' brother-in-law.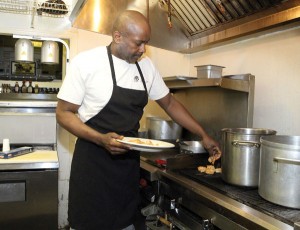 Fried Large Buttermilk Breaded Shrimp and New Orleans-Style Shrimp & Grits are served daily, but the Catch of the Day, usually grouper, is served only on Thursday nights. Customers can get it blackened with lemon butter sauce or potato crusted. Also featured are grouper fingers. Seafood Saturday offers platters of fried oysters, grilled shrimp pasta with creme sauce and sautéed Gulf scallops in butter sauce.
On the menu Thursday, Friday and Saturday nights are the chargrilled steaks, with the 8-oz filet mignon being the most popular. It's served with a baked sweet potato and fresh asparagus.
Dessert choices are simple. Strawberry cake (a local woman bakes and delivers) and bread pudding with whiskey sauce are the only meal-ender items on the menu. The popular orange rolls aren't made on the premises, but customers buy them by the dozen to take home. Soup of the Day is either Beer Cheese (see recipe) or Seafood Chowder, each made fresh daily.
Breakfast consists of "just about anything a customer wants," according to Evans. Favorites are the Crazy Horse Special and the Stable Hand Special. The former consists of two eggs, any style, with grits or gravy, hash browns or home fries, and a sampling of smoked sausage, ham and bacon, along with biscuits. The latter starts with two eggs, adding pancakes, grits and bacon or sausage. Denise Sims, former owner of Denise's Country Diner, and Dustin Nelson prepare the breakfasts.
"Saturday morning breakfasts are packed to capacity," says Green. Capacity is 104 seats, including the 24 on the screened-in patio added in February. Head chef Andrea Peagler, the Regions Bank chef in downtown Birmingham by day, oversees the kitchen at the Crazy Horse on Thursday, Friday and Saturday nights.
Lunch offerings include sandwiches filled with chargrilled burgers, chicken breasts and New York strip steaks, plus chicken salad, hot dogs and fried chicken tenders.
As for the name of the restaurant, that came from two sources: The Birmingham club where Butch and Karen had their first date in 1974, and the fact that Karen has horses. "I came home from work one day, and Karen said, 'I thought of a name,'" Butch explains. "It seemed like a fit."
Green grew up working in fast-food restaurants, but in his day job is advertising products manager at Progressive Farmer. When he started at the Crazy Horse, he was only going to be there Thursday nights, which quickly turned into a three-day weekend. "It's tiring, but fun," he says. "When it stops being fun, I'll quit."
The Crazy Horse Restaurant, located at 281 US Highway 11 in the Argo Village shopping strip, is open Tuesdays and Wednesdays from 6 a.m. until 2 p.m. On Thursdays and Fridays, it's open from 6 a.m. until 2 p.m. and from 5:30 p.m. until 8:30 p.m. Saturday hours are 6 a.m. to 10:30 a.m. and 5:30 to 8:30 p.m. Reservations are taken only for Thursday nights. The Crazy Horse is closed Sundays and Mondays.
• For one of Crazy Horse's recipes for their famous Beer Cheese Soup, check out the print or digital edition of the June 2013 edition of Discover The Essence of St. Clair •