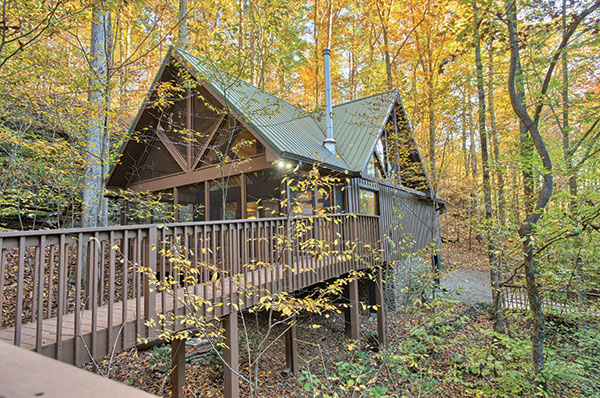 Bluff View retreat a feast for eyes and soul
Story by Carol Pappas
Photos by Wallace Bromberg Jr.
Cindy Massey never really thinks of herself as lucky. She knows it.
All she has to do is take a panoramic look around the 130 acres of bluffs, a rushing creek, wide open pasture and enveloping woods that climb upward, almost as if they reach to the sky. It is paradise found, hidden away between a pair of north St. Clair County mountainsides.
Welcome to the appropriately named, Bluff View Farm, where Foxxy, Lulu, Arley and Lottie, Cindy's four rescues, are just as content as their master. And why not? A rustic, cozy suite, a barn with a more than livable loft and dozens of acres of natural beauty are their home. And they make the best use of it, scurrying in and out, up and down voluminous trails or just settling into the perfect spot for a nap – in Cindy's lap or in an easy chair.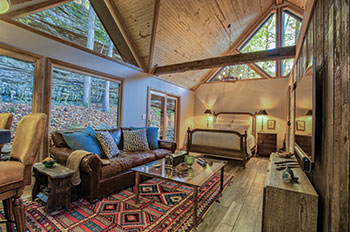 Oh, and don't forget, John, Cindy's stepfather, and his two four-footed friends, Bear and Dora. They're just as content. They live in the cabin just across the way.
It wasn't always their home. They acquired the property after Cindy's mother died a few years ago. Cindy, a retired nurse practitioner at Birmingham Heart Clinic and a former helicopter flight nurse, saw the farm as a getaway. "More and more, I found myself making excuses to leave later and later on Sunday," she said.
Her two horses had been boarded, and she finally made the decision to move them to the farm. "After I moved my horses here, I never left," she said.
John decided to get out of the big city, too. He moved to the cabin already on the farm. While planning her own cabin, she lived in the barn's one-bedroom loft, complete with kitchen, sitting room and a mountain view that seemingly has no end. A screened porch overlooks the arena, a meandering creek and a bridge with thick, towering woods on either side of this picture perfect scene acting as curtain wings to a distant mountain backdrop.
It is her vision that makes this place so special. She knew what she wanted when she was looking for acreage in St. Clair County. She could see it. She was working with Brian Camp at Lovejoy Realty, and owner Lyman Lovejoy said he knew of such a place when she described it. Only problem was, it wasn't for sale.
But Lovejoy persisted, contacting the owner, Tammi Manley, and eventually, Cindy's vision began to take shape. Tammy agreed to sell.
First, Cindy added special touches to the cabin — a wood burning fireplace and reclaimed wood floors from River Bottom Pine in north Birmingham. Two bridges were added when Cindy's cabin was built. The first bridge was constructed across the creek to bring building materials to the site. The second bridge was added from the deck from the existing cabin to Cindy's new cabin.
She redid the barn loft as a quaint, rustic living area, and she enlisted the help of builder Dennis Smothers of Benchmark Construction to create her cabin suite – separate from the existing cabin but joining it in a complementary look and feel.
"It was a bit of a challenge," Cindy admitted. "But Dennis is a visionary, and he could see it. There is no question. I never could have had this without Dennis," she said, motioning around the 718 square feet of a dream suite with views all around and special touches that are more like an artist's creation on canvas than a construction project.
"We had a collaborative, creative relationship," she said, and they drew the plans to "marry this house with that house (the original cabin). When you drive up, you can see he achieved that."
A spacious screen porch greets you – along with the dogs – as you enter the suite. Cozy and comfortable, its music is made by the sound of the creek that runs nearby. Its view? Striking bluffs and woods all around.
Step inside, and a wood burning stove with a couple of easy chairs occupy a corner nook whose walls are floor to ceiling windows.
Directly across is a spectacular kitchen with a "truly custom bar" — a sheet of copper that has been allowed to patina, forming its counter top. John Ward, The Concrete Farmer, did the concrete work that finishes the bi-level island bar. He built the farm sink at his place, brought it to its new kitchen and then poured the concrete around it.
Don Leopard of Leopard Construction was the framer, and the structural beams are of repurposed lumber.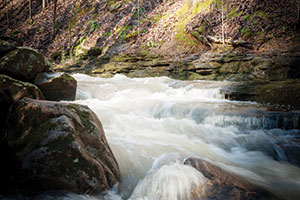 In a small space like this, every inch counts, she noted. Bedroom, great room, kitchen and sitting area are all in one open floor plan, but she gave each its own unique feel.
She wanted black skins for the lumber beneath the bar and in the living area. They found them at Evolutia, a lumber yard in north Birmingham. A custom cabinet from River Bottom Pine in the 'living room' beneath an oversized flat screen television holds everything from AV components to shoes.
The bedroom is a few steps away, but almost feels as if it is a separate place. The door leading to a separate bathroom and walk-in closet looks to be an old ice house cooler door. The sink is an antique biscuit table. Cabinet handles are old chair casters. Enter the closet through an old weathered, storm shelter door, which is fitting because the closet doubles as a storm shelter with its poured concrete insulation.
Only a few pieces of art – all by noted painter Arthur Price – accent the house. But as Cindy puts it, there's no need for much. "The art in this house is out the windows" – bluff views all around, trees, sky and sunlight – they are the natural masterpiece.
French doors lead to a garden beneath the bluffs, accented from river rocks found in the creek. Native ferns and hydrangeas surround. It is a peaceful refuge, created by Rodney Griffin of Gardens by Griffin. "He's so talented," Cindy said. "He told me, 'I let the land tell me what to do.' "
The land does speak in this place. It is a haven for all seasons. In fall, the leaves' colorful palette show brightly through angled windows near the top of the A-frame roof line. In winter, the creek overflows its banks like rapids. Spring brings the picturesque colors of seasonal rebirth. And Summer showcases its vibrant greens and myriad hues.
Cindy understands the allure and appreciates just how lucky she is. "I pinch myself every morning that I get to wake up to this."