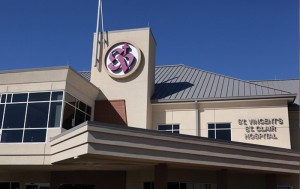 Stories by Carol Pappas
Photos by Jerry Martin
SPECIAL COVERAGE:
In just two days, on Dec. 10, the doors are expected to officially open on St. Clair County's early Christmas gift — a state-of-the-art hospital that is expected to change the face of health care throughout the entire region.
Finishing touches have been applied to the impressive building rising from the ridge overlooking Interstate 20 on Pell City's north side over the past two years. And officials are preparing for a move from the county's health care past to its promising future.
The final vestiges of the old St. Vincent's St. Clair on Dr. John Haynes Drive will close at 6 a.m. Dec. 10, and the new St. Vincent's St. Clair will be official and, more importantly, open for business.
It has been a dream 20 or more years in the making, but the region's red-letter day has arrived, and the community has watched its health care future going up with great anticipation.
St. Vincent's has long been a trusted name in medicine in the Birmingham area, and its reach into St. Clair County has been a perfect fit for both entities, officials say.
"This new hospital has truly been a collaborative effort between the St. Clair County Health Care Authority, St. Clair County Commission, City of Pell City, St. Clair County Economic Development Council and St. Vincent's Health System." said John D. O'Neil, president and CEO of St. Vincent's Health System.
"For many years, leaders in St. Clair County have worked toward building a new hospital. St. Vincent's Health System and our parent organization, Ascension Health, also are committed to improving accessibility to quality health care in the communities that we serve. Together, we've made the vision of a new hospital a reality," O'Neil said.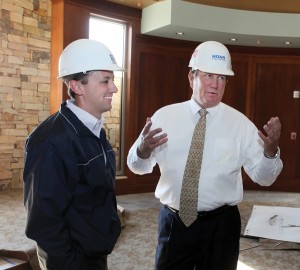 "The opening of the new state-of-the-art St. Vincent's St. Clair will have a tremendous impact on Pell City and the surrounding communities for years to come. We anticipate that additional physician specialists will join the medical staff and new services will be added. We are going to continue growing right along with St. Clair County."
The 40-bed, 79,000-square-foot facility with an additional 40,000 square feet of adjoining professional office space features "the latest and greatest equipment," according to St. Vincent's St. Clair Chief Transition Officer Terrell Vick.
Three operating rooms, Gastrointestinal lab, pathology, pharmacy, larger intensive care unit, imaging, rehabilitation, digital mammography, bone density testing, nuclear medicine, dialysis and a 64-slice CT Scanner are but a handful of services and features of the new hospital. A patient can even have a test done in St. Clair and have it interpreted in real time in Birmingham if need be.
In addition to its regular patient rooms, the hospital has two additional ones with a family room adjoining for extended stay, which was made possible by a $1 million donor.
Six large patient rooms make up the Intensive Care Unit with surgery and recovery units adjacent to it.
Initially, the hospital's offerings will focus on basic surgery. There are 10 same-day surgery suites, which are not included in the bed count of the hospital.
The Emergency Department boasts 12 rooms — 10 private exam rooms and two trauma rooms — a sizable step up from the eight cubicles in service in the old hospital. A separate entrance for ED and separate waiting areas for infectious and clean triage make the hospital more effective in dealing with emergencies and better serving patients.
A modern cafeteria with dining inside and a garden outside is serviced by Morrison's and a Starbuck's coffee shop are ready to meet food and drink needs of visitors, patients and staff. And the entire facility has wi-fi capabilities.
The design of the hospital puts patient and visitor convenience first. It is set up in service units with separate registration for one-day surgery, Emergency Department, Rehabilitation and Imaging. "It is easy for patients and visitors to navigate," Vick said. It is possible for them to park and walk straight to the area they need.
In the adjacent professional office building, St. Vincent's will lease 20,000 square feet of space for its medical groups, and there will be timeshare space provided for specialist services like cardiology, general surgery, pulmonology and orthopedics. Three cardiovascular groups along with two general-surgery groups already cover the area. "We hope eventually to have full-time services in those specialities," Vick said.
The professional office building is expected to open in coming weeks, and a sleep disorder clinic should follow in March.
A round chapel with intricate stone work inside and out is a focal point of the hospital and offers a spiritual haven for patients and visitors as part of this faith-based health system.
Vick, who has been with the hospital for nearly 40 years, can't seem to mask his excitement over the prospect of this new facility. It has been a long time in coming and would not have been possible without the team work of St. Vincent's, St. Clair County Commission, St. Clair Health Care Authority, St. Clair Economic Development Council, Jefferson State Community College, City of Pell City and the State of Alabama.
Chuck Penuel, whose architectural firm, Birchfield Penuel & Associates, designed the new hospital, called it "an important part of the St. Vincent's ministry as it reaches further into the community providing the same quality health care as it has provided in the Birmingham area for so many years.
"It is certainly one of the most challenging projects due to the nature of working with four clients instead of one — the county, city, health care authority and St. Vincent's," Penuel said. "It's a diverse group, but it shows that a common interest results in a positive outcome for the community."
"I'm happy for our associates and our medical staff," Vick said. "And we wouldn't be here without community support."