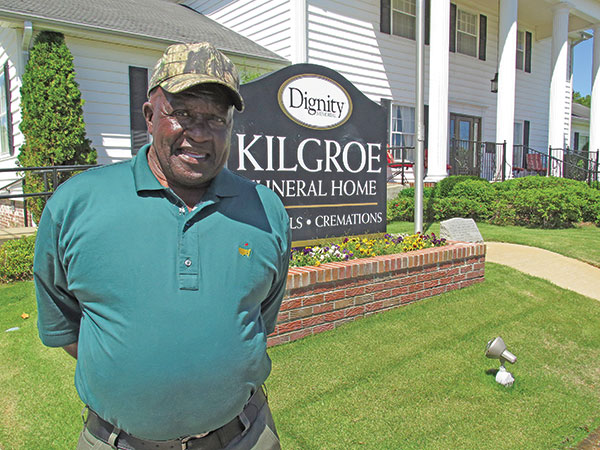 From the Heart
Story by Jackie Romine Walburn
Photos by Graham Hadley
Contributed Photos
Friends and co-workers describe Harry Charles McCoy as a hardworking, dedicated, humble, compassionate "gentle giant" with unfailing integrity, a man who started work at age 12 and whose determination and caring spirit helped him become an enterprising business man and highly-respected father, grandfather and community member.
The 68-year-old is probably best known in his hometown of Pell City for his infectious smile, a lifetime of helping others and being the longest-serving employee of Kilgroe Funeral, with more than 55 years on the job and counting.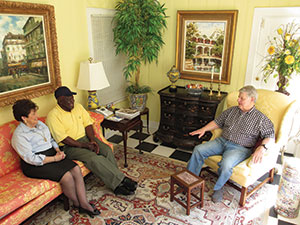 Harry Charles was 9 when his father, Blois McCoy, died at the age of 37, leaving his mother, Josephine McCoy, with eight children to raise. Vowing to aid his mother, Harry Charles stepped up to help for the first of countless times, going to work doing odd jobs around town and at the Lee Motel, where his mother was employed.A 12-year-old Harry Charles was cutting grass at the motel when a friend of the Kilgroe family asked him if he'd like another job. "I said, 'Yes ma'am.' That was 1962, and I've been here ever since," says Harry Charles.
Jane Rich Kilgroe vividly remembers meeting young Harry Charles when she came to visit her then-boyfriend Sonny Kilgroe at the family business, Kilgroe Funeral Home, run by her future father-in-law, Joe Kilgroe. "I couldn't get over him being just 12 and working seven days a week," Mrs. Kilgroe says of Harry Charles. She says he grew to be like a brother to her late husband Sonny, a caring companion to Sonny's mother, Mrs. Josephine Kilgroe, and a bonified member of the Kilgroe family. "I don't know how I would have made it through after Sonny died, without Harry Charles," says Jane Kilgroe.
Even after Sonny's failing health prompted the Kilgroe family to sell the funeral home business in 1991 – with a clause in the contract that Harry Charles McCoy would have a job as long as he wanted one – Harry Charles remains an important part of the Kilgroe family.
Through junior high and high school, Harry worked every day, even while playing football at St. Clair County High School. "And he gave all his pay to his mother for the family," Jane recalls.
Harry Charles cut the grass at the Second Avenue funeral home and washed cars. Soon he learned how to put up the tents at gravesides and take them down. Some days he came late to the funeral home, walking the 2 miles from home or riding his bicycle, once he got one, at almost dark after football practice.
"Folks asked me about it, if it bothered me working at a funeral home or being here at night," Harry Charles recalls. "It never has bothered me. I'd lost family myself, and that's one reason why I think it's important to do all you can, to do the best for the families, to let them know you care. It's the final thing you can do for a family."
About the time that 12-year-old Harry Charles started working at the funeral home, so did Barnett Lawley, who had also lost his father at a too-young age. "We were in the same shape, trying to work to help earn money," say Lawley, who was a few years older. A quick, lifelong friendship resulted. "We were close good friends. We went hunting together, went to each other's football games. Everything was segregated then, but we didn't know or care."
Lawley remembers when he, Harry Charles and Sonny Kilgroe would take the flower van – on a free day when there was not a funeral – and camp out together at Huckleberry Pond.
Now, 50-plus years later, Lawley, a businessman who served eight years as Alabama's Commissioner of Conservation and Natural Resources in Gov. Bob Riley's administration, says his respect for his childhood friend has just grown. "I can't put into words how much I admire him."
Lawley calls Harry Charles an example "of what we all should be. He's always hustling, working hard for his family and friends. He thinks about others first and is absolutely a leader in this community.
"Harry Charles is the kind of friend you know will always be there for you."
Stories about Harry Charles' determination, hard work and caring spirit come quick to those know him. There is the time when Harry turned 16 and Joe Kilgroe said, "Harry, you need to get your driver's license," and Harry Charles took off and ran to the courthouse and ended up taking his driver's test in the state trooper car of the late Trooper George Gant, who insisted on paying the license fee.
Once he was 16 and had the license, Harry learned to do more and more jobs for the funeral home. "Mr. Joe told me that if I'd graduate high school, I'd always have a job, and I have," Harry says with a grin. "They've been like family to me many years."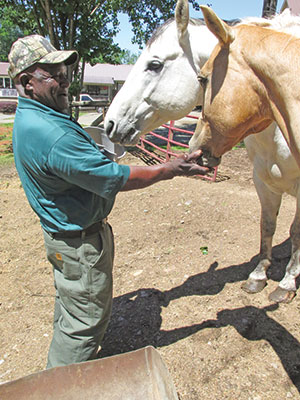 He grew up side by side with Sonny Kilgroe, who was a few years older and taught Harry how to do most every job at the funeral home. "We were always working together. He helped me, and I learned a lot. Mr. Sonny was like my brother," Harry says. Sonny died in 2015. "I'll never stop missing him."
It was 1986 when Harry Charles began opening and closing graves for the funeral home, first by hand, which was standard then. Former co-worker Terry Wilson, who now works at Ridout's Valley Chapel at Homewood, recalls Harry Charles working a full day at Kilgroe, then going to hand dig a grave for a funeral the next day. "I'd go check on him, and it'd be dark, and he'd have the truck lights shining on him, still digging by hand, late into the evening."
With time, Harry devised a way to use a trailer pulled behind his truck to smooth out the dirt before the service "because it bothered him for the families to see a pile of dirt," Wilson says. Next, Harry Charles began using a ditch witch, then power equipment and today has a fleet of equipment – including three dump trucks and a tractor – and his own business opening and closing graves in St. Clair and other counties.
He's built his own business, all the while serving others and having a love for what he does, for his community and for the families he serves, Wilson says. "He has the best attitude and work ethic. In my lifetime, I've never known anyone I respect more than Harry Charles McCoy."
Another story revolves around one of those trucks, a low-mileage truck Harry found at a local dealership traded in by actor Jim Nabors, who needed a bigger truck for work on his sister's nearby farm. "Harry always called that truck Gomer Pyle," says Jane. "He still has Gomer Pyle."
At the center of many Harry Charles stories are his concern and service to families being served by Kilgroe Funeral Home.
"When my stepfather died," recalls Teresa Carden, "Harry Charles pulled my car around back and washed it while I was inside at the service, so my car would be polished in the procession. How awesome and thoughtful was that?" Carden adds, "He is sincere and hardworking to the core."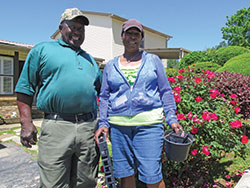 Jane Kilgroe recalls that when she and Sonny were about to get married, Sonny was so nervous that Harry Charles packed Sonny's suitcase for the honeymoon. "That's how close they were," Jane says.
Soon Harry Charles came to Mr. Joe and said he'd found himself a girlfriend, Jane says. Harry and Linda Sanders were married at the courthouse and soon began their family. Today, he and Linda, who is retired from working with the Kilgroe family at home and at Josephine's antique shop, have 48 years of marriage and seven grown children.
They are Harry Lamar McCoy, who served 32 years in the military, is still in the reserves and works at ACIPCO in Birmingham; Sabrina McCoy Wilson, a school teacher in Michigan; Charles McCoy, who works at Norfolk-Southern Railroad, and Malinda Fomby, who works at DHR in Pell City. Also raised in the McCoy household and counted among their children are nephew Nicholas Dante McCoy, who works at Norfolk-Southern, and grandsons Javoan McCoy and Montez McCoy, who both work at ACIPCO, and granddaughter Shayla. He and Linda now also dote on a great-grandson and a great-granddaughter. The family attends Rocky Zion Missionary Baptist Church.
All in the family
Friends brag, too, about Harry and Linda's family. "They taught their children a strong work ethic, good manners and to be respectful," says Buddy Spradley, Jane's nephew who taught McCoy children during his 20 years teaching elementary art at Iola Roberts Elementary School in Pell City. He adds, "And, Harry, he's as strong as an ox, but his heart is even bigger."
Working for Sonny's Czechoslovakian mother, Josephine Bukacek Kilgroe, at her antique shop by the funeral home and the family home, Harry Charles needed that strength.
"We'd get truckloads of antiques at once," he says. Lots of heavy lifting, setting them up, cleaning and polishing the furniture, "only with Johnson's Paste Wax," Jane adds.
Miss Josephine was a joy, Harry says. "I knew how she was and we got along very well." Another Harry story friends tell was about the night Pell City's power was out all over town and Harry Charles didn't get an answer when he called to check on Josephine. He rushed to her house, and having a key she gave him, went in and found Mrs. Kilgroe on the floor with a broken shoulder, unable to move. "It scared him to death," Jane recalls. "Josephine kept insisting she had to be moved. He called the ambulance and picked her up and laid her on the couch, this couch right here," she says.
After the fall and surgery, Josephine, who was 86, had to go to a nursing home for rehabilitation, with 24-hour RN care.
Linda McCoy was there with her often, too. "She wasn't happy at first until she figured out she saw more people in a day there than a week at home. Harry went to see her every morning – he had helped her with breakfast every day at home – and fixed her coffee like she liked it and began the habit of taking Josephine's clothes to the dry cleaners because she liked nice clothes, and he continued to do that until her death in 2006 at age 94. Then the family and Harry and Linda did the work to close down Josephine's antique shop.
Another Harry story Jane likes to tell is about how Harry built his family's seven-bedroom home in Pell City from a one-room house owned by his grandmother and deeded to him along with 8 acres of land. Harry added on with every child, and today the home is filled with antiques from purchases or gifts from the antique shop and from broken or reject pieces that Harry repaired or refurbished or one of his friends did. There are cows and horses on the 8 acres now, too.
Today, Harry Charles begins his days checking on Jane Kilgroe. They are best friends, too, she says. They have breakfast and talk about their days, about old times, about Sonny, and Josephine and Joe, about Linda and their children, grandchildren and greats.
Jane Kilgroe, Barnett Lawley and many others in Pell City have longs lists of things Harry Charles did for them and the ways they admire him. For Harry Charles' part, he says he enjoys "helping people and doing what I can for others."
He says he believes "it's an honor and great privilege to do for other people. My mother was that way, too," he says. "She used to say if you can't help, don't hinder. I try to do my best for people. Helping is from the heart."