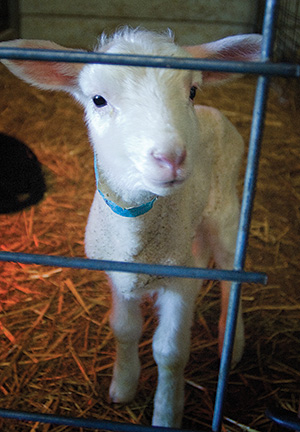 Sheep-shearing, cheese tasting at Alabama's only sheep dairy
Story by Elaine Hobson Miller
Photos by Susan Wall
It was like a cross between a fiber-arts convention and a school field trip. Some came for the free fleece, some to see the sheep, others to taste the cheese.
Sheep-shearing is an annual January event at Dayspring Dairy in Gallant, but this year was the first time it was open to the general public. "It gives us exposure and drives traffic to our products," said Ana Kelly, who, along with husband Greg, opened Alabama's only sheep dairy in 2013.
Their products are the cheeses, dips and caramel spreads that they sell at farmers' markets in Birmingham (Pepper Place), Atlanta (Piedmont Park) and Huntsville (Madison City), and at their small farm store by appointment — or when someone drops by and tracks them down in the milking barn. Many people at this year's event were regular customers from Birmingham who wanted the back story to the Dayspring products they buy. "Millennials want to know who makes their food and how the animals are treated," Ana says. "About 150 people showed up. It was a great success."
The Facebook "open house" invitation said 9 a.m. – 2 p.m., and by 9:30 cars and trucks were lined up on both sides of Dogwood Road to its intersection with Gallant Road. Both the barn and the small farm store quickly filled up with gawkers and tasters. Folks were wandering around the farm, some going into the pasture where the sheep, who were too young to be shorn, alternated between cuddling up to their visitors and cavorting like grade-school children at recess.
Folks had cameras around their necks and children in tow. The sounds of sheep bleating and chickens clucking mixed with the squeals of delighted children, while a shaggy white great Pyrenees strained on his chain in an effort to get some of the attention. Pecorino, Pec for short, has to be restrained around visitors until he learns some manners, such as not jumping up on people. Two other great Pyrenees, Brie and Camembert, were friendly but not as rambunctious.
Visitors came from Birmingham, Leeds, Pell City, Jasper, Calera, Madison, Goodwater, Atlanta and who knows where else, many of them spinners, weavers, knitters and crocheters who volunteered to help so they could get a share of the wool. They had to make their way past the farm store via a dirt path, carefully stepping over the cattle grate left behind by the former farm owners.
In the barn, the unsheared sheep waited their turn in a holding pen, temporarily crammed together so tightly they looked like a sea of fleece with bobble-heads. From there, Alex Bowen, a 17-year-old home-schooled kid who works part-time at the dairy, pushed them into a line between a wire fence and the back barn wall, then into a tip chute. The latter is a wooden platform with a side that drops so the shearer can grab them. The ewes strained against the fence, confused by all the commotion.
Daddies hoisted their toddlers onto their shoulders for a better view of the shearing process that took place in a large stall. Nibbleton Fuzzy was one of the "victims," and master shearer Stuart Mathews wrestled her to the ground on her back, using his legs to hold her in place. Once shorn, a brown spot was revealed on her back. Close examination convinced Greg Kelly it was lice. "I've never seen that before," he said. He tossed out Nibbleton's fleece, and that of several other sheep that turned up with lice. One of the volunteers said that sheep lice won't affect humans, and will die when the wool is cleaned in hot water, but no one really wanted to deal with it.
What's in a name?
"I name them when I have a reason to," Greg said, when asked whether he named each of the sheep. "Valentine was sickly when she was born, and we raised her at the house and she turned around on Valentine's Day, so we named her Valentine."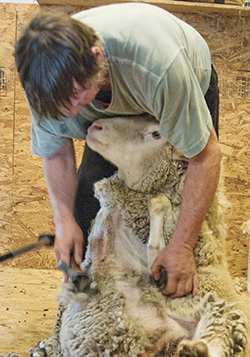 Eager volunteers hung on the door of the shearing stall, ready to grab their share of fleece. They laid it on a piece of wide-web pasture fencing stretched between two metal saw horses, where they picked out debris. A large pile accumulated beneath the makeshift "screen" as dirty pieces dropped through the holes. The good stuff was packed into garbage bags to be taken home, washed, carded and spun or woven.
"It's not the best wool," Greg said. "These are dairy sheep, they aren't raised for their wool." So, why shear them in the first place and why in the dead of winter instead of spring? "I should get a sign made," he said, with a roll of his eyes that told you he's answered that question umpteen times already. "Almost all of these are pregnant, and it makes for an easier birth," he explained. "By shearing them in January, it allows them to re-grow their wool before the biting insects appear in the spring. The winters here are very mild, but this is also done this time of year in the North. We leave about 1 inch of wool, which is enough to keep them warm."
After shearing, Greg and Jimmy Mays, who helps out on shearing and lambing (birth) days, dragged each ewe into a hammock against the wall, where they trimmed their hooves and vaccinated them. Everett Kelly, 14, son of Ana and Greg, prepared the syringes. The immunization is passed on to lambs in colostrum.
The spotless milking parlor is in the barn, where milk is pumped from the ewes and flows through stainless-steel pipes into the cheese-making room. That's where Ana shines, and where daughter Sofia, 10, often helps by putting labels on the packages.
There was no milking or cheese-making going on during shearing time, but there was plenty of tasting and buying. Lilly Poehler, the Kellys' goddaughter, helped out in the farm store, frying and browning tiny squares of the farm's Halloumi, a Mediterranean-style cheese. Folks were leaving with sacks full of cheeses, dips, jellies and a caramel sauce that's a lot like the milky-rich Dulce de Leche so popular in South America. Cheese with names such as Ewetopia, Shepherd's Tomme and Angry Ram (a hot pimiento cheese) also jostled in their sacks, along with packs of Halloumi the Kellys gave away because their sell-by date was so close.
In another life
Prior to buying their 33-acre farm in 2011, the Kellys knew no more about sheep or cheese-making than their visitors. The family lived in Birmingham, where Greg held a high-pressure IT job. Ana, a trained chef, had worked in the test kitchens at Southern Progress, then became a freelance food stylist after Everett was born. A few years later, they adopted Sofia from Colombia. They grew tired of suburban and corporate life and wanted something different. After visiting a goat farm in North Alabama to sample the cheese, the idea of becoming cheese-makers was born.
"We had a feeling we just wanted to start some type of cottage industry," Ana said. "We had taken a little trip and stopped at a cheese-making plant in Elkmont. We discovered that they didn't raise goats there, but bought the milk to make their cheese. We figured we could do it better by raising our own animals."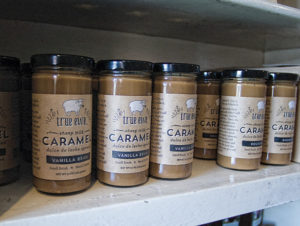 There was already lots of good goat cheese being made here in Alabama, according to Ana, and cows were too big a leap. "Sheep are docile creatures," Greg said. "They don't smell, either. Sheep produce less milk than goats or cows, but its milder and richer."
Greg trained at the Sheep Dairy School in Wisconsin, while Ana studied with cheese makers in Kentucky and Vermont. "He focused on the animals, and I focused on the cheese," she said. Greg also went to shearing school in South Dakota. Why so far away? "Do you know of any shearing schools in the South?" he quipped.
Dayspring's milk production resulted in 8,000 pounds of cheese last year, and the Kellys are shooting for 10,000 pounds in 2017. Their flock is a cross between East Friesian, the dominant dairy-sheep in the United States, and Gulf Coast Native, a breed that has adapted and thrived in Florida since the Spaniards brought their ancestors here in the 15th century. Lambs breed between the age of one-and-a-half and two years, and have a five-month gestation period. All the babies are born within a very busy, one-month window from mid-February to mid-March. "We had about 150 lambs born last year, and will probably have 200 this year," Ana said.
Most of the boys will be sold, and eventually, the girls that don't produce much milk will go, too. "We keep a milking flock of 100-125, but we may end up with 80-100 this year," Ana said. "We have three to four rams, and each can cover 25 ewes, which only come in season one time a year."
Their sheep graze all seasons on pasture untouched by pesticides or commercial fertilizer. The sheep are never given hormones, and the Kelly's believe this combination makes healthier cheese.
"We milk our ewes from February through September, which provides subtle flavor changes throughout the milking season depending on the grasses growing in our pastures," Ana says. "The rolling pastures of our land, along with our mild climate, give our cheeses a sense of place."