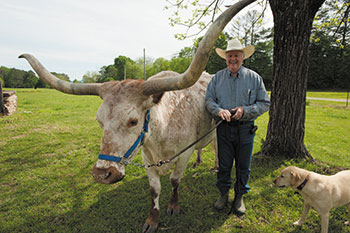 Welcome to Springville's Lazy M Farm
Story by Elaine Hobson Miller
Photos by Wallace Bromberg
Mack Morgan greeted recent visitors to his Lazy M Farm with a huge, longhorn steer named Moonlight on a halter and lead rope, as if the steer were a horse and Morgan was about to saddle up for a ride.
"Keep an eye on those horns," Morgan cautioned, stating the obvious. "Approach him from the side."
It has become a tradition for motorists traveling U.S. 11 through Springville to stop at Morgan's Lazy M Farm to take pictures when the longhorns are out. Lured by the horns that give the breed its name, they call Morgan to inquire whether he has sold them if they are in one of his hidden pastures. This tradition may soon go the way of the romanticized Old West that the breed symbolizes, however, as Morgan downsizes his longhorn herd in favor of the more profitable Brangus.
"The beef market has gone up 150 percent over the past two years, and longhorn meat is too lean for most folks," Morgan explains. "It's a matter of supply and demand. There are so many old farmers getting out of the beef cattle business and no young ones replacing them."
Morgan has always had cattle. His father raised Herefords before him, and Mack began raising longhorns 30 years ago so he could practice his roping skills. Soon he started selling them to other ropers and rodeo companies. He held roping events at his own arena behind the trees on the north side of U.S. 11. "We held round robins, where every header (the one who lassos the horns) ropes with every heeler (the one who lassos the hind legs)," he says.
Born 56 years ago in a former plantation home reduced to its rock foundations years ago, Morgan lived in that house six months, until his daddy decided he wanted to be off the road. There were five slave houses around the property when it was a plantation. Look closely, and you'll see the remains of one at the edge of the woods behind and to the right of the stone enclosure that Morgan now uses for pens and hay storage.
Morgan started out riding bulls when he was 13 to get out of doing farm chores. He hitchhiked to rodeos in Mississippi, Georgia and North Alabama before he was old enough to drive. "Five boys from the Springville area all started riding bulls together around 1972: Clayton Bromberg, Barry Long, Doug Downing, Mark Cousins and me," he says. "We taught ourselves, went to bull riding school, too," he says. He went into the sport to prove a point to his father.
"I worked for him and was cutting grass, stacking hay on the side," he explains. "I went to a rodeo and thought, 'I can do this, and if I can win, I won't have to cut grass.' And it worked." He also went to saddle-bronc riding school, but his heart was in bull riding, which won him more money than the broncs.
"As a teenager and through my 20s and into my 30s, I could win enough on weekends to support my lifestyle," he says. "I knew my limitations, though, and I knew the bulls." The only major injury he suffered was a separated shoulder, but his arthritis reminds him of the ones he either wasn't aware of at the time or that have faded into distant memory.
From bull riding, Morgan went to team roping and "did pretty good," he says. "There were lots of Saturday and Sunday ropings around Alabama." Rodeoing became an addiction, one that helped him preserve his farm all these years.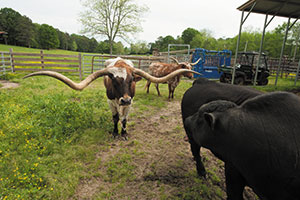 He hasn't roped since his knee replacement a year ago, although a back operation the year before had already slowed him down. "It had become more of a hobby than competition by then anyway," he says. "I can rope if I have to, though. I have a couple of Quarter horses. But the cows are so gentle they follow me across the road to the other pastures."
Longhorns are known for their gentleness. Originating from an Iberian hybrid of two ancient cattle lineages, they are direct descendants of the first cattle brought to the New World by Spanish settlers in 1493. Their horns grow from the base, and their life spans are as long in years as their horns are in inches. Cows live into their 30s, bearing calves into their mid-20s. Steers live even longer because they don't have the stress of calving.
Scalawag, 23, was a roping steer for many years, "back when I was good," Morgan says. He has kept him around because of his 94-inch horns. "He won me a belt buckle a year ago," he says. Horn length competitions, it seems, are quite common among breeders.
Steers have longer horns than the cows or bulls, because when gelded, their hormones turn away from muscle-mass and toward horn growth. Morgan's biggest steer in terms of horns was Spike, who had a span of 104 inches when he died. "The world record a few years ago was 111 inches, but it probably has been beaten by now. It's all about genetics and putting the right cow and right bull together."
Due to their innate intelligence and gentle dispositions, longhorns are increasingly being trained as riding steers.
Moonlight, 16, who Morgan calls his "sweetest" steer, rides in area parades. "Sweet" is hardly the adjective most folks would use for a 1,400 pound animal with a horn span of six feet, but Morgan says longhorn steers are low-key and easy to handle. "Each has its own personality, and they come in a variety of colors," he says. (The Texas Longhorn Breeders Association of America says there are no two alike.) "There are lots of speckled and spotted ones, solid whites, solid blacks, black-and-white ones, red ones, each with a different color pattern."
Like the longhorns in Gene Autry's Back in the Saddle Again, who feed on "the lowly Jimson weed," Morgan's herd will eat just about anything. They are a hardy breed, and will graze in hot weather and in the woods, even eating leaves. "But they won't put on weight," Morgan says. "Longhorns are the leanest of beef cattle, and not that tasty because they don't marble. They don't have the fat that other beef cattle do."
Even though he doesn't rope or ride any more, he keeps the cows because they force him to maintain the 380-acre farm that his father bought in the 1950s. Without the cattle, there would be a lot more bush-hogging, which would give him less time for his "real job," that of landlord.
"I own two apartment buildings on Highland Avenue near St. Vincent's Hospital in Birmingham, and I go to work every day," he says. "I work all the time." He cuts hay with only occasional help, and finds it stressful to keep all his machinery running.
"We're real involved in the Springville Community Theater, too," he says of him and his family. His sister, June Mack, is founder and director of the theater. Mack used to act there and still builds sets and whatever else his sister needs him to do.
"My wife and I have raised two boys on this farm, and it helped send them to college," he says. One is at Virginia Tech now, the other is about to enter Nashville's Belmont University. As to whether they will continue the family tradition, Mack can't say for sure.
"One son is an Eagle Scout, and we kid him about turning it into a Boy Scout Camp when I'm gone."