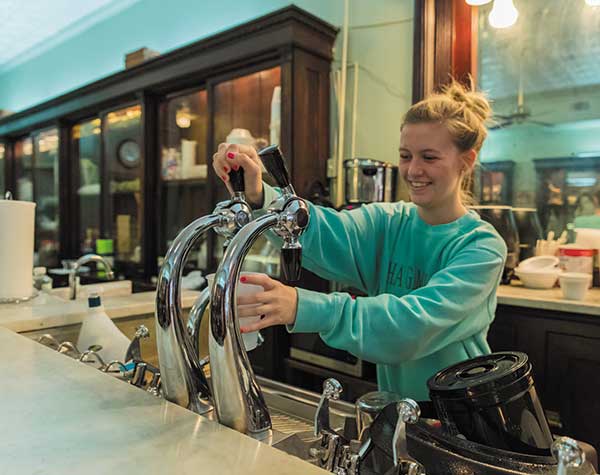 Memory-filled soda fountain reopens in Springville
Story by Tina Tidmore
Photos by Mike Callahan
On a 48-degree Friday afternoon in December, eight-year-old Clara Hughes sits at a small round table at Laster Sundries. Despite the temperature outside, Clara enjoys licking her multi-colored sherbet. In doing so, she is following the tradition of her mother and grandfather, going back to the 1960s.
Many in Springville fondly remember after-school walks down Springville's Main Street to the combination soda fountain/gift shop. Yet, for at least a year and a half, Laster Sundries was closed. It reopened in December under new ownership.
"I came here when I was 12 years old," said Sandra Tucker, a former owner of the business and current chairman of the St. Clair County Historical Development Commission. "That was the place to go for ice cream, candy, school books and school supplies." Now that it has reopened, Tucker said she hopes local people will remember it's there and support it.
"Everyone in Springville has a story to tell of the place," said new owner Amy Harris. "I wanted to bring back a place for families to make memories. It tugs at my heart strings."
The long-time Springville resident quit her 19-year nursing career in October to revive the landmark business. Even though her son Taylor questioned whether she's going through a midlife crisis in making such a drastic career change, Harris is receiving much support from her husband, mother, son, brother and nephews. Usually, one or more family members can be found serving customers in the shop, including a young man wearing a period-style white plaid shirt with a red bowtie.
Harris' mother, Dean Franklin, can be found there regularly. She is retired and also has lived in Springville for many years. As any good mother would, she's helping her daughter's dream come true and is a co-owner.
"I always loved cooking and baking," Harris said. "I always dreamed of owning a business like this." After the previous owners closed it, Harris said she just kept looking at the building, and the desire to act continued to build. "I loved the history," she said of the building and the business.
Much of that "history" is in the mahogany, floor-to-ceiling display cases, along with a marble counter purchased in 1930 and a soda fountain purchased many decades ago from Pennsylvania. The building itself is included in the Springville Historic District, which is on the U.S. National Park Service list of historic sites. Harris did some painting and wiring work in the building and is keeping the dark green and white, checkerboard-style floor.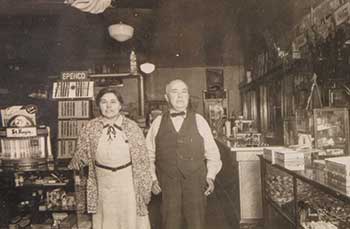 While reviving history, Harris is also looking forward to the future, hoping to create a viable business by making the right choices and offering food and gifts that her customers want. On top of the Laster Sundries ice cream case are bananas, just waiting to be sliced and put in a bowl with mint chocolate chip, butter pecan or one of the other cold and creamy delights.
In addition to the Blue Bell ice cream and cherry or vanilla cokes, the menu includes made-from-scratch soups and sandwiches. "I've been overwhelmed with how busy it's been," Harris said just two months after it reopened. "Most of the business has been the food."
It's no wonder. Their Facebook page has soup-of-the-day announcements that include hearty winter flavors, such as potato soup, tomato basil soup and wild rice soup. The sandwiches include Mama's Favorite Chicken Salad, Triple Grill Cheese and traditional choices. The menu offers a Brown Cow, Black Cow, Purple Cow and Orange Cow; all float flavors.
One holdover from the previous owners is the Egg Cream Soda. Harris said she's not sure why it's called that because it doesn't have any egg in it.
Harris is considering adding free Wi-Fi service to attract students to do their studying at the shop. The gifts, said her husband Brian Harris, will be trendy and for showers or birthdays. They plan to make the building available for after-hours events by appointment. As the temperatures warm up, customers can look for the shop to offer picnic lunches that can be taken to the neighboring public park. They have also been approached to do some catering for weddings.
This is not the first time the business has been resurrected. According to an excerpt from Heritage of St. Clair County, the Lasters started the business in 1927. It remained in the Laster family for years. But at one point, it stopped operating and the building ended up in disrepair. Then Gerald and Sandra Tucker, along with Lillian and Frank Buckner, did the repairs and opened it back up, still as Laster Sundries. Amy Harris said the Tuckers and Buckners owned it for 16 years.
At this time, Harris is using a Facebook page, Laster Sundries on Main, to communicate with the community.