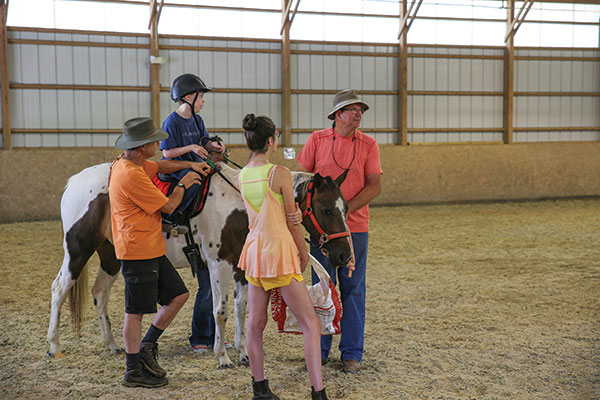 Finding faith, hope and love at the Red Barn
Story by Jane Newton Henry
Photos by Mike Callahan
Located on the banks of the Little Cahaba River in Leeds, the Red Barn is a haven for children and adults with physical, cognitive and emotional disabilities or special circumstances.
According Joy O'Neal, executive director, this equine-assisted therapy center is a place where children can have a good time, and veterans can reconnect with their families.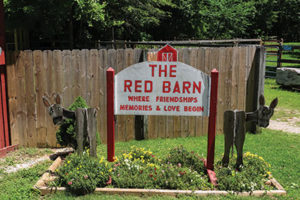 Before Randy came to the Red Barn, he had a difficult time talking, and other children at school made fun of him when he tried. He became embarrassed to speak, so he chose not to speak at all.
But as Randy began to ride horses, he learned to depend on his voice. He spoke commands to his horse, telling him to "Walk" and "Whoa." Riding gave Randy the confidence he needed to speak more clearly.
"To me that's the heart of what we're trying to teach," O'Neal said. "If learning to ride a horse makes your life better and gives you the skills that you need to get your words or your needs across, that's what matters.
"When children with physical disabilities ride horses, their bodies become stronger. The movement of a horse improves muscular coordination and gives riders a fun activity they can talk about with friends. When they're up on a horse, you can't tell that they might have a hard time walking."
Programs breed success stories
The Red Barn offers three main programs: Saddle Up, Horse Play and Take the Reins.
Saddle Up consists of weekly individualized therapeutic horseback-riding lessons.
Horse Play camps are held year-round for children with disabilities and their typically developing peers. These traditional day camps incorporate art, music and outdoor education with horses. The program also offers classes and other recreational and educational activities for individuals and groups from other non-profit agencies and schools.
Birmingham-area artist She She Vaughn teaches art classes and lessons as a part of the Horse Play program. "Art uses the creative process and allows children to communicate when they may be uncomfortable or less capable of expressing their thoughts aloud," O'Neal said. "Art also aids the students in stress relief, social skills and developing a positive self-image."
Take the Reins serves veterans, active and inactive military personnel and their families. It gives veterans time to reconnect with their families after deployment or just a place to be together.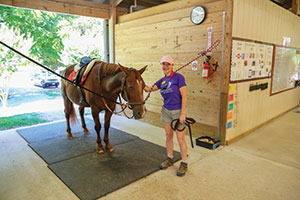 All about the horses
The 11 horses at the Red Barn were given from the community. "We get retired show horses, and we get horses from people who are looking to re-home their horse," O'Neal said. "Sometimes it's because they can no longer care for them, or they are looking for a place where the horse can still have a useful life.
"Every day is different at the barn, so it's important that our horses are sound and tolerate a lot of people," O'Neal said. "With 70 riding lessons and 30 campers a week, along with parents and volunteers, you need a horse that really likes people, is adaptable and doesn't mind change."
Making good things happen
"We have the best folks in the world working here," O'Neal said. "They are slobbered on and thrown up on. They put up with a lot, and it's physically taxing work."
In addition to employees and volunteers, the Red Barn hires about three interns a semester from local universities. Some interns have come from as far away as Missouri, Delaware and California.
The facility holds orientation and training programs for its staff, volunteers and interns, and trains others who want to work in a similar industry,
Funds that pay for programs and expenses at the Red Barn come from individual contributions, programs and grants. And the Red Barn holds two major fundraising events annually.
The Take the Reins 10K race was held for the second time on June 11 in Birmingham. "The race is run in memory of Cpl. Anthony Clay Ward, who died after returning from military service. He was the brother of Abbie, one of our first students," O'Neal said. "Last year was the sixth anniversary of Clay's death. His friends run in the 10K, and I am thankful to the Ward family for sharing their story."
The second major fundraiser is Bluegrass and Burgers. "It's more of an open house. We invite people out to see the place. They come to see what we do and how we do it."
'That changes you'
O'Neal expressed surprise about one aspect of working at the Red Barn: "You think it's about changing others, but what it does instead is change you," she said. "You think you are coming to be a side walker in a kid's lesson, and you see the bravery of what they face. You see this kid who can't speak, and other kids might make fun of him or maybe he doesn't have friends. You watch the courage of that child every single day. And that changes you.
"You also see the goodness in the people who work here — out in the sun, cold and wind. You see them give of themselves, and you think about how many good people there are in the world. You see people come together and cry, and it becomes a community, and you think, wow, this is what God intended us to do." l
---
Accredited by the Professional Association of Therapeutic Horsemanship and the Certified Horsemanship Association, the Red Barn is located at 2700 Bailey Road, Leeds, AL 35094. It is a 501(c)(3) organization, and all donations are tax-deductible. For more information about the Red Barn's organization and services, go to: www.TheRedBarn.org.