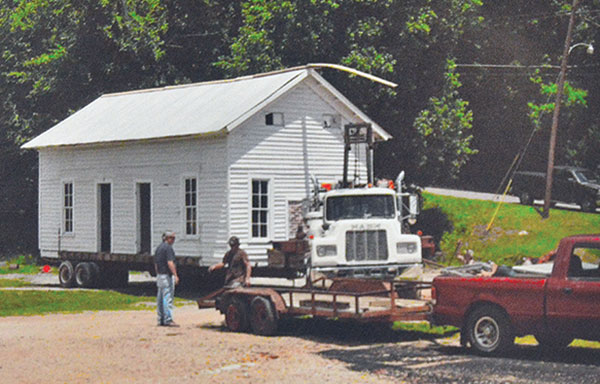 History saved and preserved
in Springville
Story and photos by Jerry C. Smith
The Springville Preservation Society refers to it simply as The Little House, but its transformation from forlorn vintage home to a quaint welcome center and community venue is no small story.
Built in St. Clair Springs sometime around 1880 (or 1835, depending on whom you ask), this homey two-room cottage was destined for demolition. In 2002, Roderick Brown made the society an offer: Move it, and it's yours, but do it now. His only request was for a marker that acknowledges his gift. He's since passed away, but a large oval plaque has been placed on the front porch in his honor.
The house was first relocated to the old Springville Lake property, where it underwent major restoration to prepare it for community use. Its windows were replaced with handcrafted copies of the originals. A fine front porch and tin roof were also added.
Springville's John Trotter, who did most of the carpentry work, remembered those days well, "When we started this project, I was 6 feet, 4 inches tall and weighed over 200 pounds." Now slimmer and a bit shorter, he quipped, "If we had to do this again, I would probably wind up 4 feet tall."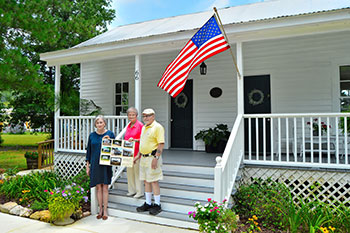 A needlework plaque on the kitchen wall says it all: Hard work is the yeast that raises the dough. John, his wife Sara, and Gayle Hammonds were prime movers for the entire project and continue their leadership roles today, but other folks and factions have generously lent their support.
For instance, the magnificent wood flooring in the parlor was donated from a pile of demolition salvage. It was stored in a building belonging to Pearson Sawmill, owned by the family of Carol Pearson Waid, who, with her husband Frank, have worked tirelessly in other local restoration projects.
Originally painted a hideous green color, the 1-by-4-inch tongue-and-groove flooring had to be sanded and sealed, but is now a lustrous vintage pine color, complete with random worm tracks and deeply colored knots.
The Hammonds, the Trotters and other community members have donated furniture, kitchen equipment, labor and other goods and services to Little House, which now sits on land owned by the City of Springville.
Sara says, "A local councilman said (Gayle and Sara) were two of the most determined ladies he'd ever met." They've worked tirelessly for years, seeking donations through local fashion shows and other fundraising activities.
Gayle adds, "For Sara, John and me, it's been absolutely a labor of love."
They point out that it's by no means finished. It's a perfect opportunity for local civic groups, garden clubs, Boy Scouts, landscapers, grass cutters, anyone with time and willingness to contribute something positive to the Springville community infrastructure.
John, who lives in a vintage home on Gin Street that he also restored, said, "When we got the house, it had no floors or ceilings, no bath and no wiring. We had to install all of it." He pointed out a ceiling lamp and table lamp, both of which were converted from kerosene to electricity by the same electricians who wired the house using materials typical of rural electrification.
Other than a few comfort additions, such as air conditioning, there is little in the main parlor to betray Little House as being less than a century old. But the similarity ends there as you step into a modern kitchen, complete with microwave and refrigerator, then into a new bathroom, which is a story unto itself. The Society had intended using Little House as a welcome center on the old Spring Lake site, but found that it was not legal to install a septic system so close to the city's water supply, thus the move to another location.
In 2012, the new front porch was removed, and the house was moved to its present location at 66 Walker Drive, just west of downtown Springville. Restoration work continued until recently, adding the restroom, floors, ceilings, a handicap ramp and reinstallation of the front porch.
Gayle says it will serve several community functions. For one, it will be opened as a welcome center anytime there are large events, such as block parties, 5k races and Homestead Hollow events.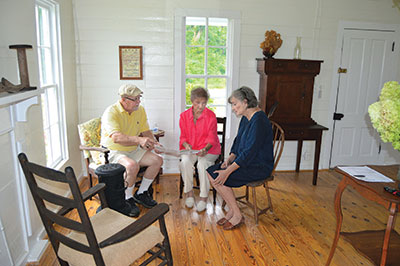 In addition, its main purpose is to serve as a rentable venue for small community group functions, including club meetings, showers, parties and other gatherings. Although actual occupancy is limited by fire law to 16, Gayle says there is ample level lawn space for tents, booths, outdoor festivities and overflow crowds.
Their brochure suggests wedding ceremonies on the front porch with bridal preparation inside, birthday parties, intimate dinners, anniversaries, child tea parties and any other functions not involving huge crowds.
Catering is available from The Choppin' Block's amazingly varied menu, or you can bring your own and use the in-house refrigerator and microwave. A limited number of chairs and tables are provided. For information or reservations, contact Sara Trotter at 205 467-3000.
Both Sara and Gayle emphasized that a quick private tour can easily be arranged at very short notice by phone, either to Sara or to Gayle, at 205-937-3071. Gayle adds, "We all live less than 10 minutes away and would be glad to meet you there."
To reach Little House, go west from the four-way stop in Springville for about a quarter mile, then left on Walker Drive. The house will be on your immediate right. GPS coordinates are 33.76511N 86.4802W.
Editor's Note: We are sad to report that Mr. Trotter passed away in late August, a few weeks after our story interview.