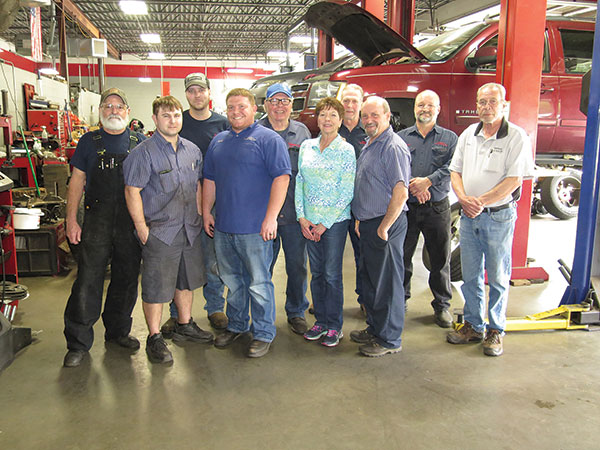 Harbison's Tire and Auto Service
Sylvia's Birdbath and Beyond
Story by Elaine Hobson Miller
Photos by Graham Hadley
On the surface, automobile tires and motor oil have absolutely nothing in common with bird baths and concrete statuary. In Argo, however, they are the products of two independent, family-owned shops that share a similar history.
Harbison's Tire & Auto Service is owned and operated by the Harbison brothers, who brought their dad's 46-year-old shop to Argo from Roebuck in 2006.
Sylvia's Birdbath & Beyond is owned and operated by Sylvia Johnson, who sold her grandfather's concrete statuary at the Mini Market she and husband Jerry ran near Trussville before opening at her current Argo location.
Each business represents three generations of family involvement. Combined, they've been serving the people of east Birmingham and St. Clair County for almost 100 years.
The late Jack Harbison, a former airline mechanic, founded Harbison Automotive Service in 1960 in a two-bay Texaco service station in the Birmingham community of East Lake. He pumped gas for his customers and did small automotive repair services. He also washed cars, repaired flat tires and handled local road service duties.
Each of his four sons was introduced into the business during his teenage years, and three still run the place today. Their only sister, Charlotte, joined them in 1997 when she retired from a real estate career.
The business moved two times while in Birmingham, its last location being a six-bay repair shop in Roebuck. The Argo facility, located at 769 Highway 11, is a full-service, eight-bay auto repair shop and retail tire center operated like Jack Harbison taught his family.
"We care about our customers," says Brandon Harbison, the oldest brother. "We take care of our customers' cars as if they were our own."
The Harbisons left Roebuck because their customers were moving toward Trussville and Springville, and business was going down. After the move, many of those customers began drifting back. "Some of them had died, but their kids are coming in now," Brandon says.
He and his brothers, Frankie and Kim, are proud of the fact that Harbison's was the fourth independent auto repair shop in the state to get a computerized tire machine, called a Hunter Revolution, that does not touch the wheel while removing or mounting a tire. "We got it two or three years ago," Brandon says.
Ricky Harbison is the only brother who didn't stay in the automotive business. A third generation is involved and may take over when his dad and uncles retire.
"My son, Brady, has worked with us for 13 years, since he finished automotive school at Walker State Technical College," Brandon says. "His wife, Candace, will be taking over administrative duties when Charlotte leaves this Spring. She's retiring to live near her grandchildren in North Carolina."
Harbison's waiting area doesn't smell of oil and grease, and the seats aren't torn from old automobiles. "We provide an attractive and comfortable waiting area for customers with television and free WiFi," says Charlotte. "We always have coffee and doughnuts, too."
One of the perks of working for Harbison's is a home-cooked breakfast and lunch each day. When matriarch Juanita Harbison was alive, she cooked them in the shop's full-size kitchen and break room, wearing a red apron embroidered with her nickname, "Ettamomma." (The name was the result of a grandson who couldn't pronounce "Juanita.") It wasn't unusual for customers in the waiting room to be invited to these meals. Since Mrs. Harbison died in 2015, Frankie has taken over breakfast duties, and Charlotte prepares the lunches. It's up-in-the air as to who will take over lunch duties when Charlotte leaves.
"I've been trading here since they came to Argo," says customer Bob Norcross, who sweeps the shop each morning to "earn" his breakfast. "They have a real combination of old school and new school, and they live by the first rule of retail, 'Treat everybody like you would like to be treated.' It's the only place I'd let my wife take her car by herself."
Harbison's is open Monday through Friday from 7 a.m. until 6 p.m., but has a key drop-box so customers can leave their cars after hours. Envelopes for the keys provide a place for customers to describe the service needed.
Another family legacy in Argo
Just as the center of Harbison's business is family, the same holds true for another Argo mainstay – Sylvia's Birdbath and Beyond. Sylvia Johnson's sister, Hazel Harper, swears that if you were to cut Sylvia, the owner, she would bleed concrete. It's because the material has been in her bloodline since her grandparents made concrete yard art in Maryville, Tennessee.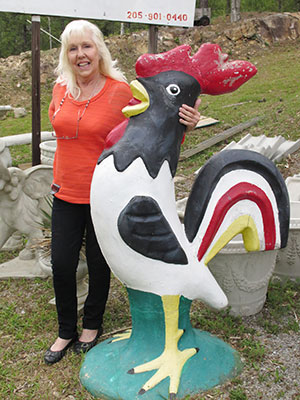 She and her husband, Jerry, ran Egg-A-Day, which became the Mini Market, on U.S. 11 between Trussville and Argo for 28 years. They sold the concrete yard art her parents made in a chicken house behind the convenience store. They shut that store down in 2004, then opened Sylvia's Birdbath & Beyond at the intersection of the Argo-Margaret Road and Farm Lake Road. The name of her business was the suggestion of a customer.
"I bought my mom and dad's molds, but I don't cast anymore," Sylvia says. "I buy from family members in Tennessee that still cast them and during road trips around the country. Casting is a hard job because of the weight, even though the pieces are cast in sections." Jerry found some of the old molds in their basement, however, and may start casting ducks, pigeons and other small birds himself.
The giant painted, concrete rooster standing guard near one of her entrances has been Sylvia's trademark for 40 years. Her aunt and uncle in Tennessee made him and two others. Sylvia sold one and gave the third to Hazel, who has cast a few pieces of concrete herself. "I've mixed it, poured it, took it out of molds," she says.
Sylvia and Hazel painted the rooster, whose likeness appears on Sylvia's business cards. "People stop and want to buy him, but he's not for sale," she says. "I have had two or three people say their mom has a photo of them on that rooster from when they were kids."
The statuaries are displayed by theme, so the fairies, gargoyles and dragons are in one area, bunnies occupy another area, planters, picnic tables and fountains still another. You'll also find a dog land, and a section devoted to elephants, tigers and other college team mascots. Her western section has steer skulls, horses and cowboys, while an occupational section features men in military uniforms, coal miners, pilots and police.
Scattered throughout the yard and spilling onto the driveway to her house (she lives next door) are gnomes, benches, crosses, stepping stones, concrete cacti, a small T-Rex, pet stones (for graves), a pink elephant and a 5'5" tall statue of Jesus. There's also a small replica of Michael Angelo's "David," with a battered cloth fig leaf Sylvia added so customers won't blush at the statue's nakedness. "Everybody has to peek under that fig leaf, though," Sylvia says, laughing heartily. Of course, there are several bird baths, and two shops of gifts and decor for inside the home.
Interspersed among the concrete yard art are plants in repurposed sinks and teapots, as well as traditional clay pots. The soft sounds of trickling water emanate from several fountains, and water plants thrive in the gaily-painted galvanized tubs Sylvia formerly used for live bait. "I was known as the 'bait woman' at the Mini Market and here, too, until 2015," Sylvia says. "I stopped selling bait because my hours weren't good for fishermen, who like to get up early."
Sylvia's Birdbath & Beyond is open from 10 a.m. until 5 p.m. Tuesday through Saturday, but people often stop and browse when she's closed, Sylvia says. "The only time we're open on Sunday is during our annual Mother's Day sale."