A quarter century
of growing nature's
beauty in St. Clair
Story by Carol Pappas
Photos by Susan Wall
John Hazelwood squinted as a streak of sunlight parted cloudy skies above, accentuating the creases in his face – the unmistakable signature of a man whose earned them in a lifetime spent outdoors.
It is outside at Hazelwood's Greenhouses and Nursery where he feels comfortable, fulfilled, surrounded by the flowers, plants, shrubs and trees he has grown. And all the while, he has nurtured a business others can enjoy, too.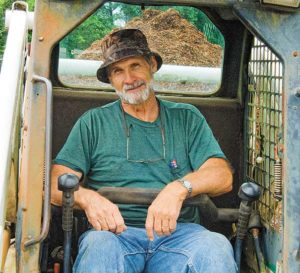 For more than a quarter of a century, Hazelwood has been doing what came natural to him – digging in the dirt, planting a seed and watching his creations grow. He grew up on a nearby farm of his family's, and his chores including gardening. Was he always interested in growing? Not necessarily. "My daddy took an interest in me growing things," Hazelwood mused. "I had seven brothers and two sisters. He made sure we had plenty of work to do."
The farm where he once labored as a boy has now become growing fields for the business he built a greenhouse at a time.
Atop a hillside in Pell City, almost hidden from view of passersby, is Hazelwood's, the business that has become a tradition around these parts. His colorful handiwork at Mt. Zion Church is a hint you're getting close. With a chuckle, he calls it his billboard, but it really is a ministry of his.
After high school, he enlisted in the U.S. Navy, intending to be an X-ray technician. But after four years, he figured he could pursue his future education on the GI Bill rather than re-enlist for another four years. "I figured out what I liked and what I didn't like," and as life has its usual twists and turns, he wound up at Auburn University, majoring in Agribusiness Education instead.
He taught in Lee County and in Odenville and eventually made his way to what is now John Pope Eden Career Technical School. He was principal his last 13 years before retiring in 2001.
Throughout his education career, he dabbled in growing. "I thought I would do a little on the side and raise some ferns," he recalls. He bought an 80 x 25-foot, used tomato greenhouse and grew 400 ferns that year – 1985.
The manager at TG & Y, an old department store in Pell City, told him he would take them all at wholesale, but the deal fell through. He managed to sell them all, though, and people started asking if he could grow other plants. "It started snowballing," he said.
In a couple of years, he bought another used tomato greenhouse, then another, and the business just kept coming…and growing.
In the early 1990s, he hired Harold Fairchilds, who was in the high school cooperative program. That was 25 years ago. He has been with Hazelwood ever since. So has Harold's sister, Becky. Gayla, another sister, started a couple of years after that.
The Fairchilds siblings make up most of Hazelwood's greenhouses and nursery 'family,' and he credits them significantly with the business' success. "I can't replace those three," said Hazelwood. "I'd have to close up. I don't know how I'd do it."
The Fairchilds moved to Pell City from Missouri and a farming background, according to Becky. "At the time, it was a job. I didn't know I would fall in love with it."
The same holds true for Harold. "I guess I'm just comfortable here. I like being outside doing something I enjoy daily."
And Gayla's assessment isn't far from her brother's and sister's. "Obviously, I love it, or I wouldn't keep doing it," she said. "I like the outdoors. I love flowers, and I love color." It was a perfect match for her family and for Hazelwood's. "It was the closest we could get to farming," she said.
Harold clarified: "It's farming in pots."
Changing with times
Over the years, as the Hazelwood hillside landscape changed – more greenhouses and cold frame houses and rows and rows of plants, flowers and trees – the business has changed as well. Choices grew quickly. "There are so many new plants," Hazelwood said. "There are hundreds of new varieties every year. There are new colors, new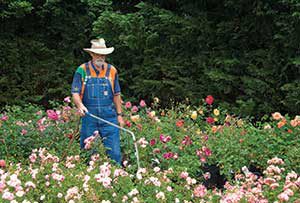 everything. There are a couple of thousand petunias."
Where people used to prune hedges, they now want landscape that is low or no maintenance. They pick dwarf plants. "They just don't have time like they used to."
But fortunately, he added, "people still like to plant trees, shrubs and flowers." And their one constant is Hazelwood's.
As for competition from big box stores, "we just decided to do a better job, have more quality plants at a good price and try to keep customers happy and satisfied."
You'll get no argument there from John and Helen Golden. They've been shopping at Hazelwood's from nearly the beginning. "We've been buying plants here for our garden for years and years," Golden recalls. Their favorite? "Roses," they say, almost in unison, much like the way they talk about their shared experience at Hazelwood's.
It's like family serving family. It's a trust factor, an ever ready smile and a helping hand, and one would be hard-pressed to replicate the chemistry they have with each other and with their customers. "They have good plants, and they are good people," Golden said. "Becky is really good."
Becky is easy to spot. She is always moving, whether it's on foot or in a golf cart. You'll see her toting a bag of potting soil, a plant or a cartful of essentials for the garden, all the while greeting customers with a deep South charm that belies her Missouri roots. Her attentiveness to customer service is unmistakable.
Gayla is much the same way, chattering away to customers as she creates beautiful container gardens. "I'm happiest when I'm creating," she says. Even a work in progress seems to be good enough to buy. Her work table sign warns customers: "Please do not take plants off the table." They seem to snatch them up as if they were a finished product, and the perfectionist in Gayla isn't about to let them go too early.
Down in the lower part of the property, you'll find Harold watering and watching over plants, trees and shrubs as if they were his children. "We just had a handful of shrubs when I started," he says. Now they stretch as far as the eye can see on the property. "If you don't like the heat, this is not the job for you. If you don't like to get dirty, this isn't the job for you," he says. As for him, it's definitely the job he loves. "I guess I'm just comfortable."
In addition to Hazelwood's extended family, his daughters, Shelly Martin and Kelly Staples, grew up working at the nursery. Shelly even pursued a career in landscape design after graduation from Auburn and does design work in Birmingham communities like Liberty Park as well as Pell City and surrounding areas.
Hazelwood does some landscape design work himself and is quick to offer advice to customers when needed. "Fall is the time to do landscaping," he says. Like the Goldens, he has his favorites, too: Podacarpus for shrub; any variety of begonias for bloom; and "the old Magnolia" for a tree.
As Hazelwood looks around at the bustle of activity on this spring afternoon, recounting the journey that led him to a thriving business, he notes, "It's something that just kind of happened. I didn't intend to do it at all. It just grew out of starting something. I've been blessed. The Lord had something to do with it."