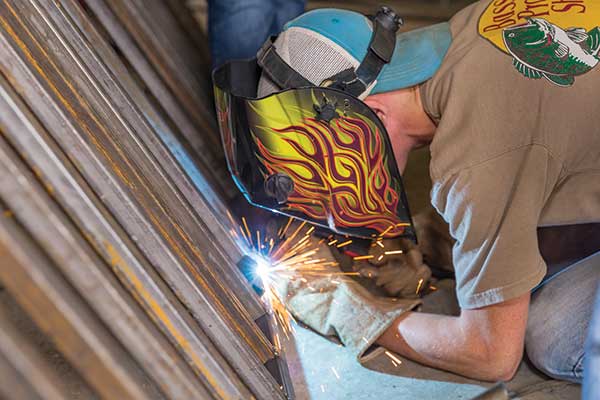 Cooperative effort key to training skilled labor force
Story by Graham Hadley
Photos by Michael Callahan and Graham Hadley
In this technological and professional age, it is easy for students — and parents and teachers — to focus heavily on high-profile skills involving computers, programming, electronics and web design or to place students on narrow education tracks with the ultimate goal of receiving at least a four-year college degree.
But as the baby-boomer generation retires, so will a large portion of the industrial- and construction-skilled workforce.
And that poses a huge problem, not just for Alabama, but for the rest of the United States as well.
It's a problem business owners, working in conjunction with educators in Alabama at the high school and post-secondary levels, are hoping to reverse — and to do so in such a way that helps retain students in school and make sure they have a solid foundation to succeed after graduation.
Changing workforce needs
Pell City's Garrison Steel owner John Garrison speculates his is the last generation of workers trained by previous masters in such essential skills as welding, fitting, plumbing, electrical work and similar fields.
A combination of factors has steered the country away from the kind of apprentice-style training that Garrison and other construction and industrial leaders say is so essential to key economic sectors of the workforce.
When he was first starting out in the business, training in industrial construction, unions were strong and Americans tended to buy American.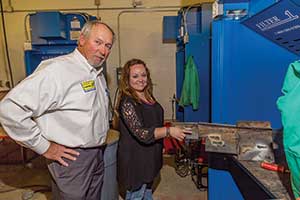 "By and large, the unions to a large degree as far as construction, trained the generation I represent," Garrison said. That was in the late 1960s.
But soon the unions started to lose traction to non-union businesses.
Today, he estimates the unions — and their highly skilled multi-generational employees — only represent 10, maybe 11 percent of the industrial workforce in the United States.
And then there was the image of working in construction or factories. Before the government, through organizations like OSHA, started putting a premium on safe working conditions, construction and manufacturing jobs were dangerous. Those workers wanted something better and safer for their children and often pushed them to pursue a college education.
Garrison said that attitude, combined with a similar government view with initiatives like No Child Left Behind, have gutted the skilled labor force.
"We are going to run out of skilled workers — they predicted that in the 1990s," Garrison said. "And we are seeing that now."
The shortage actually caught something of a break during the recent spate of recessions because the demand for those employees was low.
But as the economy continues to turn the corner, the demand for welders, electricians, plumbers and their skilled coworkers is on the rise.
And companies are finding it increasingly difficult to fill those positions, Garrison said.
Multifaceted Problem;
Multifaceted Solution
At the same time the skilled labor gap was growing, so were dropout rates in public schools. The new one-size-fits-all approach to education was not working for many students — teens who were capable of succeeding but who had no interest in pursuing a four-year degree right out of high school.
The solution to both problems lies in working together, agreed Garrison and Pell City Schools Superintendent Dr. Michael Barber.
"We are working to redefine what a successful student is," Barber said. "What we have to be is very careful to look at all careers, all professions.
"College is important, but there are students who don't want to go to a four-year college. That's not where their talent and skills are and not where they want to go. But they can still go out into the workforce and make a great living.
"We want to bring comprehensiveness to their educational experiences. Pull back the curtain and let them see what is out there," he said.
To do that, the high school, businesses like Garrison Steel and Goodgame Company, and community colleges like Jefferson State are working hand-in-hand to give exactly those students the job experience, the training and exposure to the real-world work environment to put them on the path to success.
What started with industry-backed programs, like the construction-focused Go Build Alabama, has expanded exponentially to include a wide variety of needed skill sets. Students can start earning certification and training toward jobs in everything from medicine — certified nursing assistants and pharmacy assistants — to police and firefighters through the Bridge School and other programs while still in high school.
Students on the construction side of things are able to dual enroll at Jefferson State and other colleges and work on-the-job at companies like Garrison Steel and Goodgame Company. They can begin receiving accreditation with the National Center for Construction Education and Research — the industry performance standard for workers in building-related fields.
"NCCER was developed in the mid 1990s for construction only. … Over 79 trades are covered — things like welding, crane operation, plumbing," Garrison said. Students who graduate high school with some of that certification in place, proving they have taken the core curriculum needed for that skill, are much more likely to land a well-paying job right out of school.
"If I see a student has some NCCER and says they have been through the core curriculum, now we have the door cracked open. We have a student who knows about our industry. That gives them a big leg up," he said.
That training certification is nationally, and in some cases internationally, recognized.
"They might work in Alabama, West Texas, Oklahoma — anywhere in the U.S. — or some place like Dubai," Garrison said.
A Two-Way Street
Students who take part in the training, who go to the job sites, are not only gaining invaluable training and experience for themselves — the idea is contagious as they share what they have seen with other students, said PCHS Principal Dr. Tony Dowdy.
"I have seen our students go out to these work places and bring that work mentality back to their high school. Before this, we had students who might not have been able to finish with a diploma. Seeing the workplace requirements, they want that diploma so they can go back and get hired at those places they visited or trained at.
"I have heard conversations between students, students telling other students that poor performance won't cut it at places like Goodgame and Garrison or the Fire Department," he said.
Pell City High School has gradually been phasing in this new approach to education over the past few years, said Dr. Kim Williams, system curriculum coordinator.
"We wanted to have a consistency in message. We took students to the steam plant in Wilsonville two or three years ago. That was our first big move in workforce development. We make sure we have something every quarter for the students that won't let go of that. We are staying with this message," she said.
Reinforcing that, Williams has been appointed to the Pell City Industrial Development Board.
"Three years ago, the school system joined the EDC (St. Clair Economic Development Council). We needed to be sitting at that table. That has allowed us to be part of what is going on and to look at trends in hiring needs," Barber said.
Everyone came back from that first trip excited, and the ball has never stopped rolling since.
"We have done an exceptional job of identifying students who want to be in construction or welding. Getting them together in a classroom and seeing them feed off each other's enthusiasm in a positive way, that, as their teacher, has been very cool," said Brittany Beasley, an agriscience teacher at PCHS.
As students gain valuable work experience and skills, so do their mentors. They can actually earn teaching certificates by training students in their respective specialties.
"Through the Alabama Department of Education, there is a mentoring program where the professionals can earn certification as teachers. … They have to complete a year-long program, then they can earn their certification," Williams said.
Already, Pell City Fire Chief Mike Burdett and firefighter Jeff Parrish have completed their certifications. "And we have two more on track to earn theirs," she said.
Two police officers have received training on their certification, something that Principal Dowdy pointed out is available to any skilled field, "electrician, HVAC, etc. It's another way to get skilled trainers into the classroom."
"The advantage is, they bring real-life experience to the table. They don't have to come in and sell themselves. They capture the attention of the students," Williams added.
For the employers, it means ready-made workers already familiar with their jobs and with the work ethic that is expected of them. Garrison pointed out he has two students, Matthew Gunter McCrory and Karl David Graves, who graduated in 2015, working for his company. And they are following in the footsteps of other PCHS grads at Garrison Steel.
"These young guys can turn out to be very desirable employees because of the work ethic they learned," he said.
Win-win Situation
is Just the Beginning
The program is too new for there to be hard numbers, but Williams says the school system has definitely started to see positive results, from more students entering the workplace to a decrease in dropouts.
"There is a large number of students who are positively placed, employed in an industry or in construction in fields like welding. Because of what I teach, I tend to stay in touch with my old students — it is easier to do in these types of classes. We have a vested interest in our students after graduation," Beasley said, adding that it helps them keep track of workforce demands and which businesses are needing specific skills filled.
Though she is an agriscience teacher, she saw these programs as a way for "us to stay relevant. I now teach welding, intro to metal fabrication, intro to MIG welding, inert gas and flux cored arc welding" in addition to more traditional agricultural classes. That means her students can not only work as farmers, they can also find jobs repairing farm and other heavy equipment.
And while many students are taking advantage of the new opportunities afforded them, just as many students are still on track for four-year degrees.
"We still have the same number of students receiving scholarships, the same number of students going on to four-year degrees, but we have a lot of students going into the workforce, too," Barber said.
The school system has hired a workforce coordinator, Danielle Pope, whose job it is to communicate with local businesses and industries about their needs.
"Then, during the students' senior year, she matches students with employers," Williams said.
"It's about making the school system relevant to the community beyond education. We are asking what are the needs of the community and how can we tailor our program to meet those needs," Barber said.