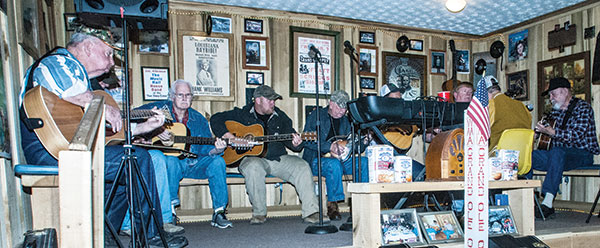 Story by Elaine Hobson Miller
Photos by Susan Wall
Late in the evening, about sundown,
High on a hill up above the town,
Uncle Pen played the fiddle, Lordy, how it would ring,
You could hear it talk, you could hear it sing.
Bill Monroe's Uncle Pen would have felt right at home at Old Valley House in Gallant. That's where local bluegrass musicians gather for a monthly jam session every first Friday. With their guitars, mandolins, banjos and the occasional Dobro and fiddle, a stage-full of homegrown performers makes the rafters ring and the audience sing to old-timey tunes. Some of those tunes are mournful, some are spirited, but all are certified crowd pleasers.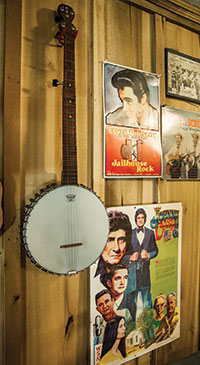 Adron and Joyce Willingham and their son, Mark, turned Adron's 200-year-old, four-room family home in Gallant into a tiny version of the Grand Ole Opry. They knocked out a wall between two of the rooms, built a small stage, brought in durable, hard-plastic chairs and a sound system. The people started coming. The music officially begins at 6 p.m., but the musicians start straggling in about 5:30 to tune up. The room seats 40-45 people. It's free, and anyone is welcome to come and play, sing or just listen.
"Last month, there wasn't even standing room," Joyce Willingham says at the April event.
Although the venue is never referred to as a version of the Opry, the front of the main room bears an uncanny resemblance to its Nashville godmother. Three steps lead up to the small stage. In front of those steps, there's a table with two- and five-pound bags of Martha White Flour, one of the longest-running sponsors of Grand Ole Opry segments. There's even a fake microphone patterned after the real one in front of the Opry stage, only the Gallant version has the letters WAM printed vertically on each side. Any traditional country music fan worth his Ernest Tubb albums knows the Opry is broadcast by radio station WSM. Joyce explains. «That's for Willingham, Mark and Adron," she says. «They left me out."
Her husband says this is the oldest house in the Greasy Cove valley. It's where he spent some of his pre-teen years, until his family moved away. In 1964, he returned and bought the property. He built a house behind the old one. In 1989, he started the Friday night jam sessions. "We had one every Friday night for 10 years or more, then we stopped for a while," Adron says. "We started back with every first Friday about 10 years ago."
Old family (Willingham) photos and pictures of previous jam sessions line the walls of the main room, along with LP album covers and stringed instruments such as mandolins, guitars and dulcimers. A strand of Christmas garland laced with red and white bulbs drapes the weight-bearing ceiling beam between the stage and seating area. Overalls hang on what used to be an entrance door, while framed, original posters of shows by Hank Williams and Flatt and Scruggs hang on the wall behind the stage. Overhead, two ceiling fans are ready to stir the upcoming summer air, while 45 RPM records dangle from the ceiling.
Regulars greet each other like the old friends and relatives they are. Light chatter goes on throughout the session, but it doesn't seem to bother the musicians or other audience members. Most nights, five to seven musicians show up and sit in chairs in a semi-circle on the stage. Tonight, there are nine. Larry Battles plays mandolin. He has come to these jam sessions since they started. James Keener and Phillip Mulkey play several stringed instruments, while Mark Willingham plays guitar and banjo. Jerry Womble plays 12-string and six-string guitar. Most of the musicians are members of gospel and/or bluegrass bands. Mark and Phillip, for example, are part of The Backwoods Boys, a group that plays at churches and festivals throughout the South.
At the Old Valley House, they play classics such as, Nine Pound Hammer, Shotgun Boogie, Fireball Mail, Where the Soul Never Dies, Sweet Bye and Bye, and I Saw the Light. A few audience members sing along with them on the gospel songs.
Phillip Mulkey does vocals occasionally. He sits stage left, facing one of three microphones. When he sings, others join him, some providing vocal harmony, all doing instrumental backup. Someone yells out, "Do The Preacher and the Bear." Keenor obliges, but can't recall all the words. Some folks on the back row of the audience start a discussion about who recorded that one. A newcomer remembers it was Phil Somebody, but when she tries to Google it, she discovers the house is in 'Cell Hell,' with no service except in certain areas of its yard. (Turns out Phil Somebody was Phil Harris.)
Jesse Wright sits in for a short while, playing guitar. His wife, Alice, is in the audience with their two sons, Gavin, 3, and Garret, 7 months. The boys are clapping in time to the music. "That's Daddy," Gavin says to the stranger seated next to him. The stranger, also a newcomer, turns to his mom and says, "You know what's missing?"
"No, what?" Alice responds.
"A fiddle."
"I play fiddle," she says. "Just not tonight."
A man in the audience shouts out, "Get That Wildwood Flower going on that banjo," and the guys crank up an instrumental version of the old Carter Family favorite. Mark Willingham jumps in with his guitar to play the part Mother Maybelle Carter did on her trademark autoharp. "Hey, Phillip, let's hear that new instrument you got," someone else yells.
"I'll get it in a minute," Phillip replies.
Soon he pulls out a tiny, handmade instrument he found at a garage sale for $2. Neither he nor anyone in the audience knows what it is. It's about the size of a mandolin, but its body is skinnier. He says it originally had 10 strings that he replaced with mandolin strings. He plays it like a mandolin, too.
At 7 o'clock, hats come off and the retired Rev. Darwin Cardwell blesses the food that people brought. One by one, folks stroll into the kitchen and chow down on pimiento cheese sandwiches, chicken-salad sandwiches, pigs-in-a-blanket, hot dogs, store-bought mini-cupcakes and homemade German chocolate cake. It's like a church potluck, but with finger foods instead of casseroles. The small kitchen is cramped, with its wood-burning cook stove, cabinets, two tables laden with food and another with coffee and soft drinks. Iron skillets hang from the walls, and a shelf holds old clay crocks and a cookie jar.
After supper, Adron takes to the stage and channels Roy Acuff by singing Dust on the Bible and Wreck on the Highway. Adron's brother, Rayburn Willingham, follows with The Great Speckled Bird, another Acuff number. Then the group breaks into, "Kaw-Liga,," one of the last songs recorded by Hank Williams before he died in the back seat of a Cadillac.
Jerry Battles says his late father, Arvie, helped found these jam sessions. He points to a photo of Arvie on a table beneath one of the glass-enclosed guitars on display. "He lived for this Friday night," Battles says.
More bluegrass, country and gospel songs spill out. The audience softly joins in on Build My Mansion Next Door to Jesus and In The Sweet Bye And Bye." The repertoire tonight includes Old Rattler, Rocky Top, and Dueling Banjos," before Vernon Bishop does his instrumental version of I'll Fly Away on the Dobro.
Adron goes outside, then comes back in with an arm load of logs. During winter and chilly spring cold snaps, he keeps a fire going in the fireplace of the main room. Old-timers recall when homes like this were heated by fireplaces. «You'd stand facing the fire and fry your front, then turn around and fry your back," one woman commented
"Hey, Joyce, remind me to bring those folks leaving now some bush onions," Phillip Mulkey yells from the stage as a couple gets up to go.
"I got some, too," Joyce answers. She explains to the newcomer that bush onions are like green onions, but are grown in the winter.
The April session breaks up at 9:15 p.m., about 45 minutes earlier than usual. Rev. Cardwell prays a dismissal blessing, asking God to see everyone home safely. Several "amens" follow his, and folks start drifting out in twos and fours. Already, they can't wait for the next first Friday.