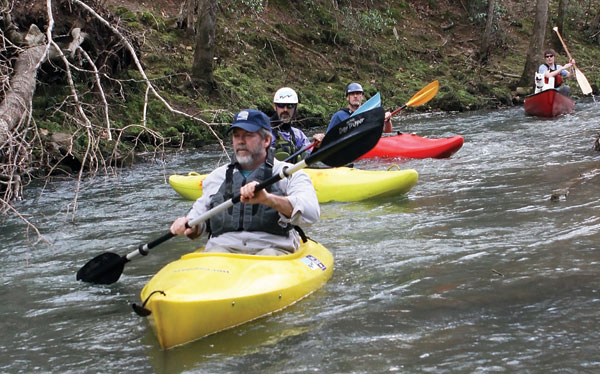 Story by Mike Bolton
Photos by Jerry Martin
Anyone who might stumble upon the unobtrusive hogback ridge buried deeply in the woods off Old Springville Road near Clay probably wouldn't give it a second glance. The ridge's mundane appearance gives no hint as to its incredibly important role in Alabama's history and this state's remarkable topography.
Raindrops that fall a few inches southwest of the raised spot of Alabama earth trickle their way down through the leaves and black dirt and begin an incredible journey. The raindrops eventually gather to become a small stream that passes through Clay, and that stream becomes the Little Cahaba River as it nears Trussville.
It soon becomes the Cahaba River and meanders through several Birmingham suburbs before its 180-mile excursion through the heartland of Alabama. The odyssey finally ends at the community of Old Cahawba, Alabama's first capital, located at the confluence of the Cahaba and Alabama rivers below Selma.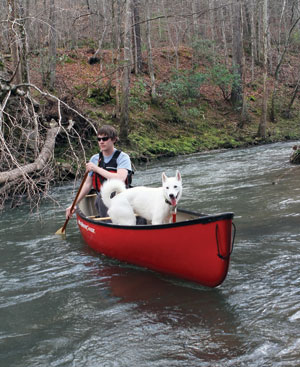 Back in Clay – oddly enough – raindrops that fall just a few inches northeast of the ridge begin an interesting journey of their own in an entirely different direction.
Raindrops there trickle down to eventually form Big Canoe Creek, a beautiful, almost pristine tributary that makes a serpentine run through Springville. From there it meanders for almost 50 miles through rural St. Clair County before finally reaching Lake Neely Henry.
While Big Canoe Creek and the Cahaba River share origination points and numerous similarities, one thing dramatically sets the two apart.
The Cahaba is a river constantly in peril because of the huge population that has grown in its watershed. Big Canoe Creek, meanwhile, sits almost unnoticed by most St. Clair residents, a jewel barely affected by an ever-growing encroachment by man.
Alex Varner, a former Springville resident who often canoes on Big Canoe Creek, says it is a hidden oasis where someone can literally paddle for days and never see another human being.
"People just don't understand what they have right in their back door," said Varner who now fights the daily grind of life on U.S. 280. "It is a creek that is full of fish and surrounded by wildlife. A lot of people would die to have a place like that."
Big Canoe Creek is both blessed and cursed by that remote nature, those who love it claim.
It is protected from much harm by the fact that most St. Clair County residents' only contact comes as they drive across one of its many bridges during their daily commute. That out-of-sight, out-of-mind existence does have consequences, its proponents say. When the call does come that it needs protection, so very few understand the importance.
Fortunately, there are a number who fathom the creek's cosmetic, biological and recreational value. The Friends of Big Canoe Creek is an organization not made up of bespectacled tree huggers, as many might suspect, but rather an eclectic group of members who value the waterway for different reasons. The membership of about 50 people ranges from farmers who have lived on the creek all their lives to new residents who escaped Birmingham and fell in love with the creek flowing through their backyards.
Doug Morrison, the group's president, is one of the latter whose attraction to the creek was by happenstance. Like many hoping to escape the Birmingham suburbs, the Center Point resident was turned off by the heavily congested U.S. 280 corridor and instead looked in the opposite direction to St. Clair County. When he and his wife, Joannie, stumbled upon a home for sale on Oak Grove Road in Springville, they were awestruck in two very different ways.
"My wife loved the house, and I loved the creek behind it," Morrison says with a laugh.
He was no stranger to creeks. He grew up behind Eastwood Mall and had fond memories of turning over rocks and looking for crawfish in Shades Creek. At first, he was only attracted by having a creek as a neighbor. He said at the time he could have never imagined how a creek could have cast such a spell in his life.
"I began to see people in canoes and kayaks pass by my house, and I was fascinated," he said. "One neighbor let me try his kayak, and I loved it. He eventually bought another kayak, and we began to go kayaking. Then I saw a neighbor wade fishing and catching fish. I tried that and loved that."
On his short kayak jaunts, Morrison was astonished to see deer, otters, minks, wood ducks and a seemingly endless list of wildlife. He was equally astounded by the number of fish species in the creek, including 5-pound bass, crappie, bream, alligator gar and redhorse suckers. Only then did he realize what he was becoming a part of.
"I'm thinking what a gem this place is," he said. "There are so many people here that just don't seem to know it exists. They drive across it and take it for granted. They just don't know how lucky they are to have something like this."
Morrison admits he succumbed to a basic instinct of mankind. If you love something, you want to protect it. You first, however, have to develop that kinship with the creek to really appreciate it and to yearn for its protection.
As his kayaking expeditions increased, he began expanding his trips to differing locations on Big Canoe Creek. His concerns for the creek began to broaden past the litter that was occasionally dumped at the many bridges in St. Clair County that cross the creek. He became thirsty for knowledge of what makes creeks work and what can be found in them.
He was surprised to learn that Big Canoe Creek has more than 50 fish species, including some that can be found few other places in the world. He was shocked to discover that the many mussels he was seeing actually played an important role in filtering the water and keeping it pure. He was surprised to find that some of the mussels were probably of the eight listed federally as threatened. Shoot, he might have even seen the Canoe Creek Club Shell mussel that can be found nowhere else in the world but Big Canoe Creek.
While he didn't consider himself some nerd that could explain the value of what he was seeing to a panel of scholars, he did have his own take on why he wanted to see them protected: "I do know God put them on this earth," he says matter-of-factly.
His quest for knowledge continued. He figured the creek didn't face many pollution threats but found that pollution can be found in many forms. He learned that the runoff from farms often contains animal wastes and fertilizers that increase the nutrient load in creeks.
And there were threats he had never thought of. He learned that pavement and concrete force fast-water runoff into waterways instead of allowing the rains to slowly filter through the earth before being released into creeks. He learned that cigarette butts thumped into some parking lots can eventually wash into storm drains and can be directed to creeks. He learned that those who change their own oil in vehicles and lawnmowers sometimes dump the used oil into storm drains. That oil is directed to creeks and rivers. He learned that buffers are needed to protect creeks from residential and commercial construction.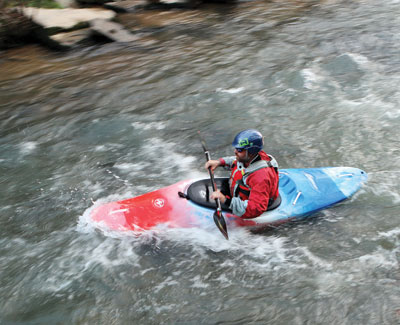 Because of its mainly rural path, Big Canoe Creek currently doesn't face many of those issues, but Morrison knows that with St. Clair County's rapid growth, those problems may be in the creek's future. He was relieved to find that many of the potential problems can easily be stopped before they begin by simply educating the public.
He knew that a group, the Friends of Big Canoe Creek, had formed about 15 years ago but had become dormant. His next-door-neighbor Vickey Wheeler, had been a founding member, and he urged her to help him revive the group. He had plenty of support along the way from his wife, Joannie, who has worked tirelessly in the effort ever since.
Early on, he began looking for guidance by calling Liz Brooke at the Alabama Rivers Alliance and suddenly found help at every turn. Brooke introduced him to Varner.
Varner, the former Springville resident now on the Alabama Rivers Alliance board, had grown up playing in Big Canoe Creek. He fully understood the creek's beauty and its importance. "He said to count him in on getting the group started," Morrison said. "He played an important role in us getting started. He eventually became a board member and is still a board member."
Varner canoes and fishes all across Alabama but says Big Canoe Creek will always have a special place in his heart. He had gotten away from the creek as he grew older and discovered other locations to play, like the Sipsey River, but when he became involved with Friends of Big Canoe Creek, "I got hooked all over again."
House painter Robert "Beau" Jordan and wife Trish are both members. They moved to Oak Grove Road from Center Point in 1995 looking for a little acreage and a little solitude. The fact that a creek flowed through it wasn't that big of a draw at the time, he remembers.
"We just wanted to get out in the country," he said. "I was surprised when I started paying attention to the creek that it had so many fish in it. I started wade fishing and doing a little kayaking and fell in love with it.
"I've caught three species of bream, largemouth bass, spotted bass, rock bass, redeye bass and catfish.
"You really have to spend some time in the creek to appreciate it. I had no idea when I moved here that I would get into it like I have."
Member Gerald Tucker, a farmer from Springville, has a lot more invested in Big Canoe Creek than most members. In 1873 his great-grandfather settled the land next to the creek near U.S. 11 and farmed there. Today, almost 140 years later, the 76-year-old is still raising cattle there. He says Big Canoe Creek has been a big part of his life and his family's tradition. He says through the years, he has learned more and more about protecting it.
"A little education goes a long way," he says with a laugh.
Tucker says he once thought nothing about allowing his cattle to roam and drink from the creek. Once he learned about damage to the creek from sediment washing from the bare banks where livestock trampled, he was quick to react. He erected fencing to keep his cows out of the creek. A seemingly small step, he admits, but the creek needs only a little help to protect it, the group is quick to point out.
"When most people think about problems facing a waterway they immediately think of industry, but the problems are not always from industry," Morrison said. "You have nutrient loading from livestock and septic tanks and sedimentation from clearing land.
"Many times all that is needed is to leave a little land buffer between whatever you are doing and the creek. People aren't purposely causing harm. You let them learn about things, and they understand. They want to protect the creek, too."