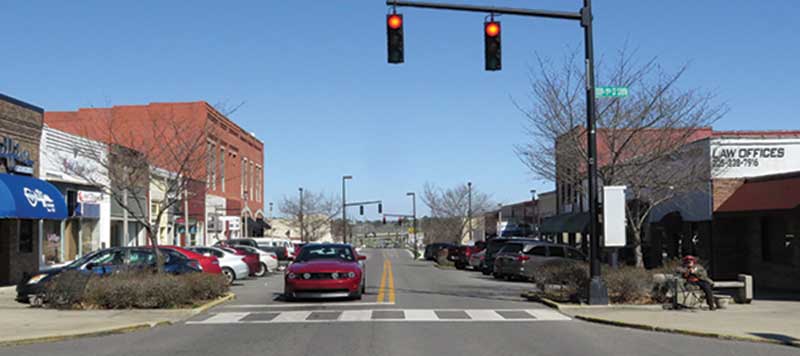 Story by Scottie Vickery
Photos courtesy Pell City Library
Photos by Graham Hadley
Even the walls of the Maxwell Building in downtown Pell City have a story to tell, just like the others lining the blocks of Cogswell Avenue.
The first brick building constructed in town, it still bears the scars of a 1902 dynamite explosion at the nearby train depot. The accident killed two people, injured several others, and left a large crack in the building's exterior.
The structure was built in 1890, a year before the city was incorporated, and has been home to a boarding house, grocery stores, post office and hotel over its 129-year history. It's the only survivor of the handful of houses and buildings that made up the original eight square blocks of Pell City. Today, the building that boasts so much historical charm now counts art galleries and a martial arts studio among its many tenants.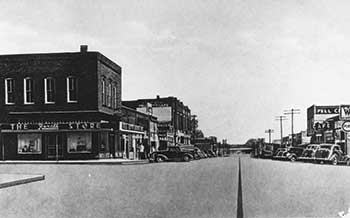 "It's a monument to the humble beginnings of town and stands as a testament to the resilient nature of its people," Urainah Glidewell said of the Maxwell Building and its many lives. The organizer of the 4th Annual Pell City Historical Walking Tours held each Saturday in April, Glidewell said the building is just one of many that participants can explore. "A lot of people who live in Pell City don't know much about its history, and there are so many wonderful stories. This is a way for us to open the doors for the community and kind of invite them in," she said.
Glidewell, who has called Pell City home for 13 years, researched the origins of the city, its founders and businesses for the tours, which average about 150 participants each year. Led by community volunteers, they are a project of The Heart of Pell City, a group dedicated to the preservation, revitalization and cultural development of the downtown historical district. More than 30 cities and towns across the state, including Springville, are hosting tours this year as part of the Alabama Department of Tourism's initiative to highlight the rich history of the state.
"Everyone who calls Pell City home, who has a business here, they're now part of the history of Pell City," said Glidewell, who serves as president of The Heart of Pell City. "We're walking in the footsteps of all the people who came before us. We thought the tours would be a wonderful way to educate people."
In its infancy
Downtown Pell City, added to the National Register of Historic Places in 2001, has a long, storied history. Founded by railroad investors, a town charter was issued in 1887, and the city was officially incorporated in May 1891. It was named for one of the financial backers, George Hamilton Pell of New York.
Pell City was nearly abandoned following the Panic of 1893, but it was redeveloped after Sumter Cogswell and his wife, Lydia DeGaris Cogswell, moved to town in 1901 and bought the city for the bargain price of $3,000. "Mr. Cogswell influenced the location here in 1902 of the Pell City Manufacturing Company, subsequently Avondale Mills," according to the historical marker in front of the courthouse. "The town's prosperity was secured after that time."
Much of Pell City's growth over the years can be attributed to the construction of I-20 and Logan Martin Lake, both built during the 1960s. It's the historical district, however, that gave the largest city in St. Clair County its start. The district includes two blocks of Cogswell Avenue, as well as several buildings on 19th Street North, 21st Street North and 20th Street South.
Here's a look at some of the buildings and their stories, according to Glidewell's research: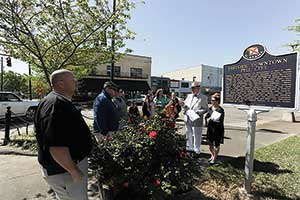 Pell City Drug Company/Rexall Drugs, 1901 Cogswell Avenue, was built in 1903 by Dr. R.A. Martin. When Comer Hospital closed in 1931, he opened a six-bed clinic above the drugstore and started construction on the 42-bed Martin Hospital, which was directly behind the store and now houses law offices. The drug store, which closed its doors in 2001, sold everything from prescriptions to school books during its nearly 100-year history and featured a soda fountain and lunch counter, according to Carolyn Hall, Martin's granddaughter. Today, visitors can still enjoy a meal at El Cazador Mexican Grill, which opened there several years ago.
Singleton's Barber Shop, which opened in 1905 at 1911 Cogswell Avenue, is now home to Partners by Design, a multimedia marketing company that publishes Discover, The Essence of St. Clair, as well as other magazines. They don't offer haircuts, but today's visitors who are having a bad hair day can also buy baseball caps and visors there, as well as T-shirts, sweatshirts and other products promoting Logan Martin Lake. Partners by Design sells its brand of LakeLife™ products at its downtown office. The brand's origin comes from a logo the company designed years ago and trademarked.
The Maxwell Building, which once housed a herd of goats, was originally built by John Maxwell, who was trained in the leather trade. The original plans called for the building to be used as a tannery, but records are unclear as to whether or not that actually happened. The building currently houses a number of businesses, including Merle Norman Cosmetics Studio, Artscape Gallery, Mission Submissions Brazilian Jiu Jitsu, Dirk A. Walker Fine Art Gallery, Mila Le Beauty Bar and Lilly Designs.
The Willingham Building, built in 1920 at 1922 Cogswell Avenue, was originally home to a furniture store and grocery in the front part of the building and a funeral parlor in the back. Joe Kilgroe later acquired the funeral service, which is now known as Kilgroe Funeral Home and has locations in Pell City and Leeds. The building later housed Hagan Drugs and is now home to Judy's PC Tees, which makes custom Tshirts.
Pell City Hardware Company was built in 1904 at 1910 Cogswell Avenue and sold everything from tools to guns, cutlery, and dishes. One of the original partners was Hardy Cornett, who at one point opened a hotel in the Maxwell Building. Pell City Hardware was sold in the 1980s and became Gossett Hardware Company. Today, the building is home to three businesses: Express Shipping, Toast Sandwich Eatery, and The Old Gray Barn, an antiques and collectibles store with finds that include cutlery and dishes of days gone by.
"I love history," said Glidewell, who dresses in period costumes for the tours she leads. "I didn't grow up in Pell City or have family roots here, but this is my home now. I've loved looking back at all the people who helped build Pell City. Being able to preserve that and share it in this way has been very rewarding."